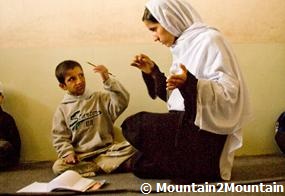 Inclusive development and the creation of a better world for all will be the major focus of this year's International Day of Persons with Disabilities. In recognition of this important day, Women's Worldwide Web proudly endorses the work of our field partner, Mountain2Mountain, which provides education, compassion, and hope to Afghanistan's most vulnerable deaf children.
Around 10,000 deaf children are living in silence within Afghanistan's turbulent borders—owing to a lack of vaccinations and preventative services, to injury from bombs, mines or torture, to intermarriage or complications during childbirth. Unheard and unseen, these children are consistently excluded from the development process. In societies across the globe, disabled girls and women are subject to "double discrimination", placing them at a significantly greater risk of gender-based violence, neglect, and exploitation. They are also more likely to experience difficulty in their search for adequate housing and health services and in their pursuit of an education and/or job training.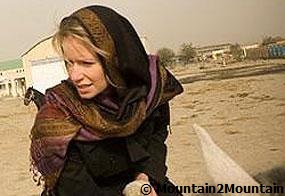 In response to this unjust reality, our field partner, Mountain2Mountain, dedicates itself to implementing locally-adapted and sustainable solutions to ensure that deaf people receive the same quality of education as their hearing peers. Shannon Galpin, Founder and President of Mountain2Mountain, explains: "Deaf children around the world deserve the same access to education as their hearing counterparts. That is no different in Afghanistan […] In a country that struggles to provide adequate access to mainstream education, the deaf are beyond the fringes."
In partnership with the Afghan National Association for the Deaf (ANAD), Mountain2Mountain is building Afghanistan's first K-12 school for deaf children in Kabul. This school will serve as ANAD's headquarters and will include a farm, allowing deaf pupils to acquire the skills necessary to enter agricultural trades. The establishment will also house a teacher-training center: the hope is that the training of new, specialized teachers will spark a virtuous cycle, leading to the opening of more schools and bringing to even the most remote areas of the country qualified teachers who are trained to teach deaf children.
Indeed, Mountain2Mountain's ambitions to empower deaf people in Afghanistan extend far beyond the walls of its new school. Its long-term goals include the implementation of an interpreter-training program, benefiting from the mentoring of various Western organizations, and the creation of a teacher-training program for the school's own graduates—enabling graduates to reinvest their knowledge in their local communities, contributing to the education of other deaf children while at the same time using their teachers' income to support themselves and their families.
W4 commends Mountain2Mountain's tremendous commitment to promoting the social and economic inclusion of Afghanistan's vulnerable deaf population. We invite you to support the organization's vital efforts to end the marginalization of persons with disabilities across the country and to encourage their participation in lasting and successful development processes.
© Women's Worldwide Web 2011