W4 interviews inspirational Shamim Rajani, a "women in tech" role model on a mission to foster a new generation of tech-trailblazing young women through her work with CodeGirls Pakistan!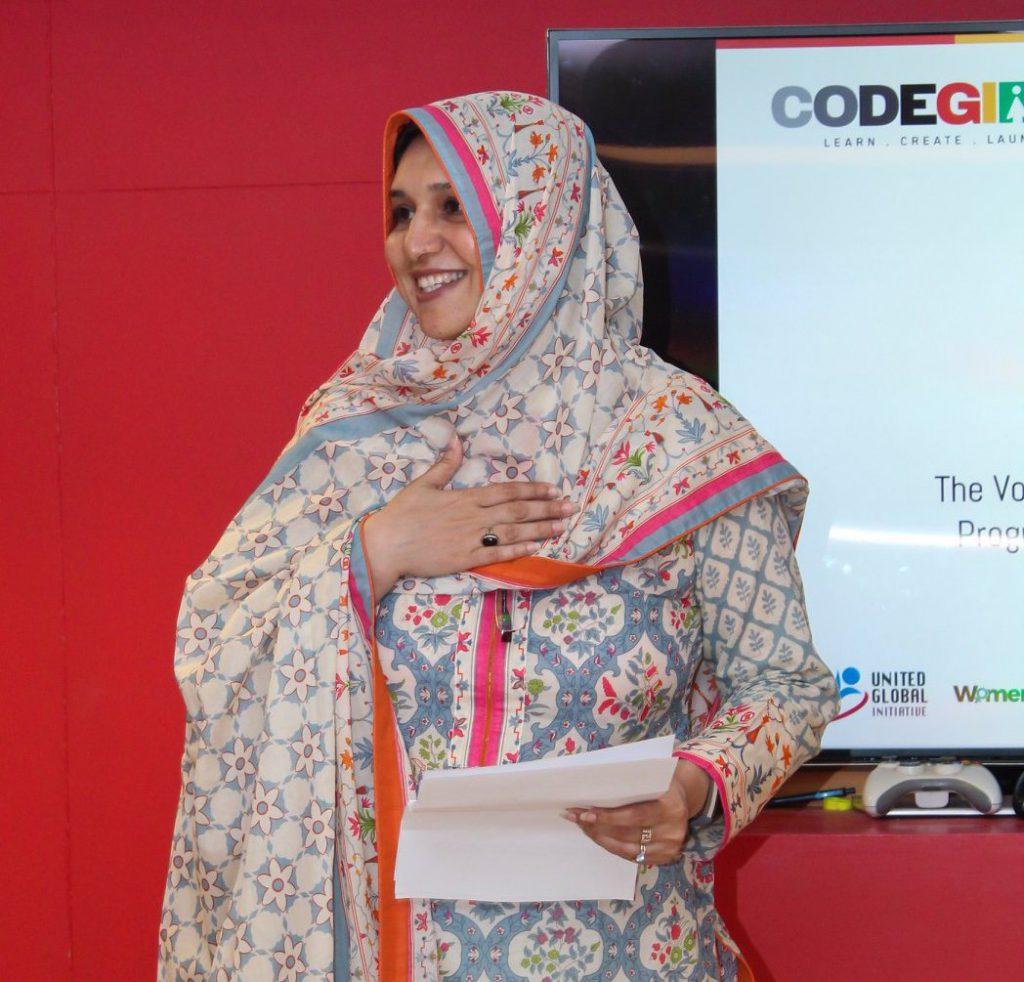 What inspired the creation of CodeGirls Pakistan?
For the last 14 years, I've owned a software services company in Pakistan. I have a team of 60 people working on web, mobile and AI-enabled applications. One of my customers, with whom I had worked for the last 10 years, came across a few interviews I'd done and learned a little about me and how I had been married at the age of 17, had a daughter, and started my company alone as a woman. My customer told me, "I want more girls in Pakistan to be able to do what you've done. Can we do it?" I said, "I have 9 years of experience training low-income groups in technology, and I know exactly the gaps in the market. So, yes, I can do it." He instantly sponsored 100 girls for the program.
So, that inspiration came from him. I joined him on this venture because, after the support I'd received 14 years ago when I launched my business, I was also looking to give back to the community, but I lacked the financial backing. 50% of girls drop out of computer science and I can't even find 10-15% of girls ready to work in the industry, so that was a huge problem. I wanted to see more girls involved. I knew that girls in Pakistan have the potential. They're very smart, organized, loyal, and hardworking. I think as educators and employers in Pakistan, we need to focus on this 49% of the population who are marginalized and have not been given the opportunity to step into the tech sector. I wanted to target girls, from lower- and middle-class families, who assumed they would end up going to beautician school or learning to sew or cook.
The tech sector is currently so male-dominated that women and their ideas are often dismissed. As a woman, you can have a great idea, but you're not heard for a second. I found it so lonely, I wanted to improve inclusion in the tech sector.
Also, whenever we hired a junior employee, whether female or male, we had to undo and redo a lot of their training because what they had been taught in academia was not what was actually being done in the market. So, we had to train junior employees for 3 to 4 months in order to make up for this huge gap in the curriculum design between academia and the industry.
Furthermore, in Pakistan, a Muslim country, the prospect of women working outside of the home can be a huge problem for some families. I don't know of any industry other than tech that has such a huge freelancing potential and can leverage ICTs. Women can stay at home and do this work. They don't have to go out.
To bridge the gap between academia and the professional world, I wanted to involve professional developers as trainers rather than bring in teachers from academia. I did not want the girls to be told, but rather to be shown, how it is done. There's a huge difference between learning from textbooks and getting hands-on practice and experience.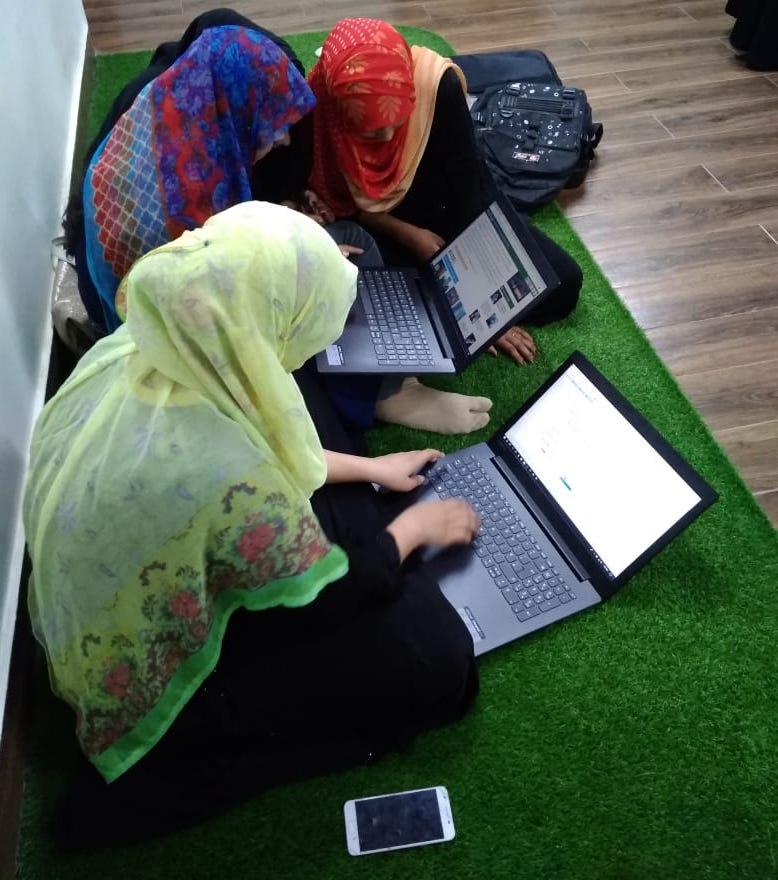 Could you give us a sense of the extent of the digital/technology gender gap in Pakistan?
In 2012, a survey by P@sha (Pakistan Software Houses Association) showed women making up 14% of the tech workforce. In 2018, a company that won an award for gender diversity had 17% of women in its workforce. That's the best we've achieved here so far, so there's still a huge gap.
You mentioned that you found your business partner because he wanted to invest in you. The challenge, in this sector, is gaining access not just to digital skills and training, but also to funding. Do you feel that, in Pakistan, it is becoming a little easier for women to gain support financially?
It's not easy. You have to prove your worth. My partner knew me for 10 years, saw me grow from the time I started as a single woman business-owner to a full-fledged, successful company. He was always inspired by and respectful of our company culture, so our relationship  grew really organically.
The program is kicking off because this partner believes in me. And we have been able to mobilize the local tech industry because I hold a respected position within it, being one of the very first women who started 15-20 years ago. Then there is my business partner, Faiza Yousuf, who is the founder of Women in Tech in Pakistan, where I am also on the Board of Advisors. She has a huge network in the technology world, so people trust us. But if a woman new to the industry wanted to do something like this, it would be very difficult.
For example: A non-profit organization in the US wanted to leverage my presence there and introduce the CodeGirls program to the community. They were very invested in the idea of doing a huge campaign to raise money for CodeGirls. The event went really well, it was a full house, but we weren't able to meet our goal. Obviously we were all disappointed, but I said, "It's alright, it's quite expected because they don't know me." People tend to pledge and commit to donations when they know who the money is going to.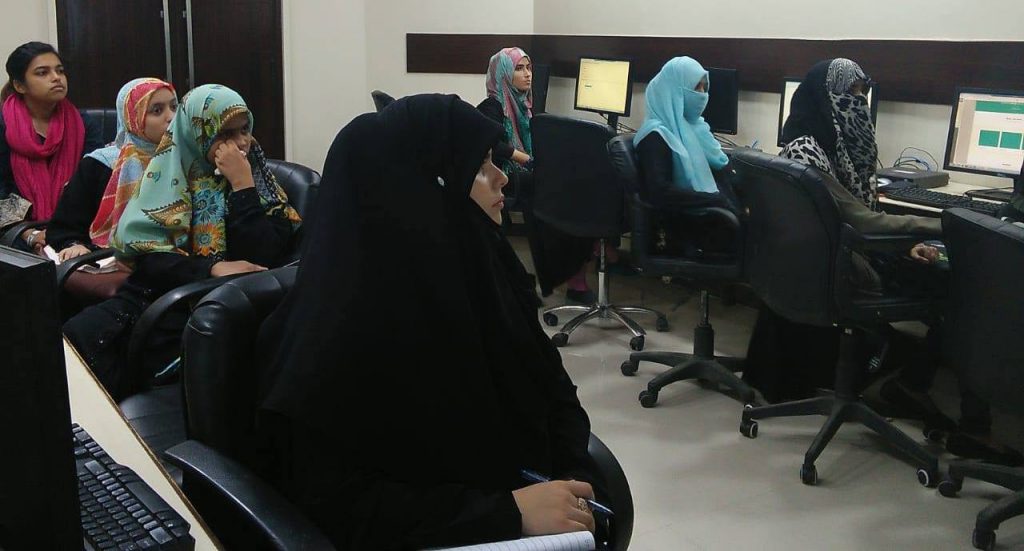 What are the key programs you have put in place to promote girls' and women's IT skills training?
The current program is a one-year track with three phases.  Because we're selecting girls who have no coding background, we make sure that those girls know the basics of how to use a computer and the internet. So, we give them a zero test and once they clear that, we integrate them into phase 1. In phase 1, we teach them website design, i.e., HTML, CSS, Java Script and Jquery. That's 100 hours of training and then we supplement that with 6 non-tech workshops. I believe that one reason this program is so successful in Pakistan is that we combine the coding boot camp with soft skills. We equip the students with entrepreneurship skills, financial literacy, soft skills, and solopreneurship skills. During solopreneurship workshops, the students gain the building blocks they need to succeed as a one-woman company, including how to leverage social media to gain traction, awareness about HR laws and how to deal with workplace harassment. This is crucial because these girls are scared to step into the tech industry because it is so male-dominated.
The first phase is followed by a two-week project where the students build and publish a website. Then they can select any of the four tracks offered in phase 2: advanced programming, software quality assurance, WordPress, or graphic design. Once again, this is 100 hours of training. Then, we give them two non-tech workshops on freelancing, workplace readiness, design thinking and problem solving. We also bring in guest speakers who have experience in these subjects.
In phase 3, we give them all the tips and tricks they need to become a good freelancer. We show them how to build their profiles, portfolios and personal branding, how to be selective about these decisions, how to write a winning proposal, calculate cost estimations and input estimations, retain a customer, create sales plans, and all the hacks of freelancing. By the end of the 4 months, we hope that they will have developed at least one or two good projects backed by some money or at least good reviews before they step into the market themselves. That's the 1-year program.
Our first two cohorts graduated on December 1st 2018, and we had four or five companies offering these girls great internships. We have mobilized the local industry and they are helping us to take this forward, but I know that a lot of girls will want to go into freelancing eventually so it's very important to prepare them for that. I don't want to just give them the training and then leave them without further guidance. It took me 15 years to get to where I am today. I want them to get there in 5 years.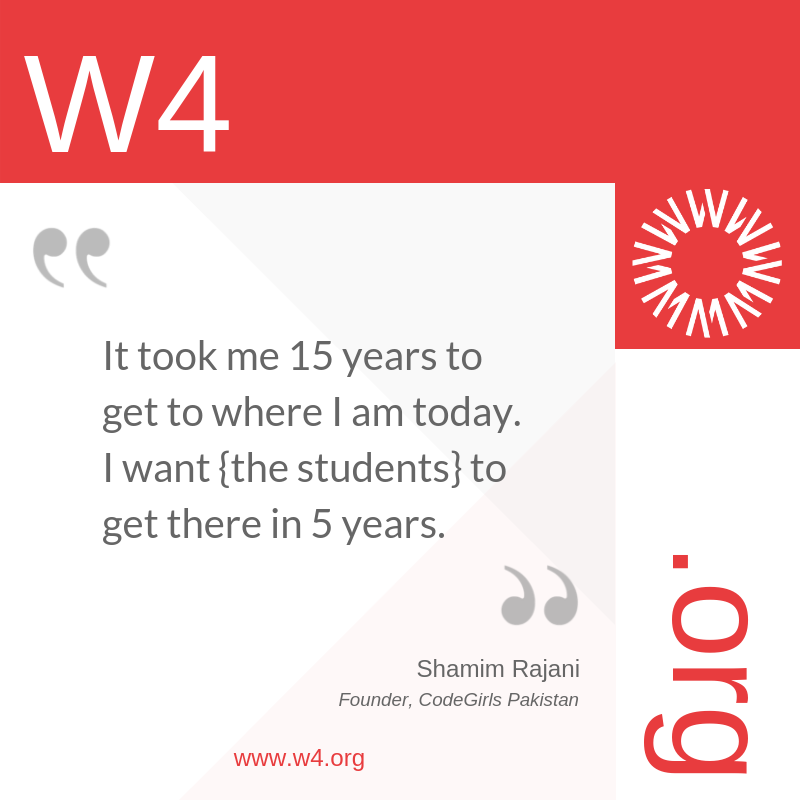 Considering the challenging context in which you work, what are the principal obstacles your organization faces and how are you addressing those challenges? How does participation in your training programs help girls and women, with regard to their studies, careers, employment and their wider social empowerment?
The biggest obstacle is maintaining the funding. We've been bootstrapping, with the support of my patron partner in the US, United Global Initiative. He has agreed to fund 60 girls per phase, and for the remaining 60 girls I need to raise funds from the local community. He matches one-for-one when someone from the local community donates. We work constantly with the local community, keeping them updated and involved, for instance, through Facebook Lives of the training, and by inviting them as guest speakers and showing them what we're doing.
We need sponsorships for students and funds for laptops. At the end of each phase, we identify the top 10 girls in the program and give them laptops. Giving a laptop to one girl is really giving a laptop to a whole family, and each girl often has 4 or 5 siblings. Our training program is free and the students can drop out any time, so the prospect of being awarded a brand-new laptop at the end of the program helps to keep students involved and invested. To secure sponsorships for this, we mobilize the local IT industry and different communities within the city and the country.
We also need to involve a bigger audience, so we're thinking about crowdfunding or applying for a grant next year. I never expected this program to grow so large. I was planning to train 100 girls in one year, and I ended up training several hundred girls in the first year. Right now, my partners and I think bootstrapping is a very good idea because while we are implementing these phases, we are learning, improving and evolving.
What are your ambitions, both personally and for the association?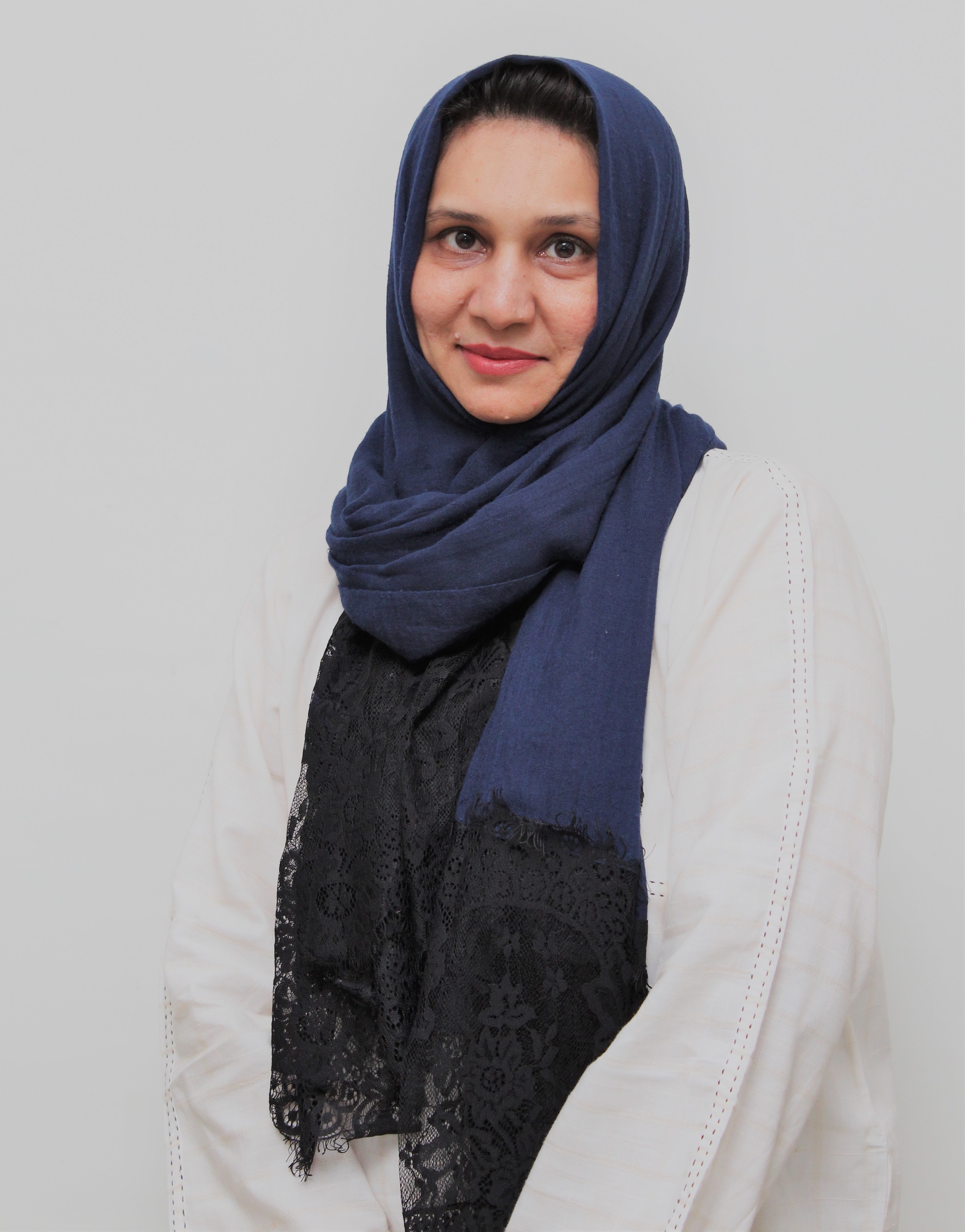 The other obstacle is the course curriculum. I'm very lucky because, being in the industry as a software services company owner, I know exactly what employers want. So, that's the first step in the curriculum. Then, we circulate our content within the industry, asking companies to vet it and help us ensure that we're focusing on the right concepts. We also perform surveys with technology companies, asking what tracks they'd like us to target. We want to make sure that the training we give these girls, twill correspond to job openings for them. We constantly work with the industry, locally, nationally and globally. As I said, when the first set of girls graduated, we had several companies already offering them paid internships. But it would be optimal if the girls could obtain jobs with companies outside Pakistan and also be able to work from home. The pay scale difference is huge. A company in Pakistan would pay $200 to $300 a month. I'm sure that a company in the US would pay $600 to $700 a month to start with. So we're working with a couple of organizations in North America to mobilize the tech community to offer jobs to the girls in Pakistan. 
Space is another issue as more students sign up. I started the program in November. By the end of January, the training for February was already completely full, so we had to begin taking admissions for May. In response to this strong demand, we're preparing a "Train the trainer program" so that people in other parts of Karachi or Pakistan can start the same program and take it forward to other local communities.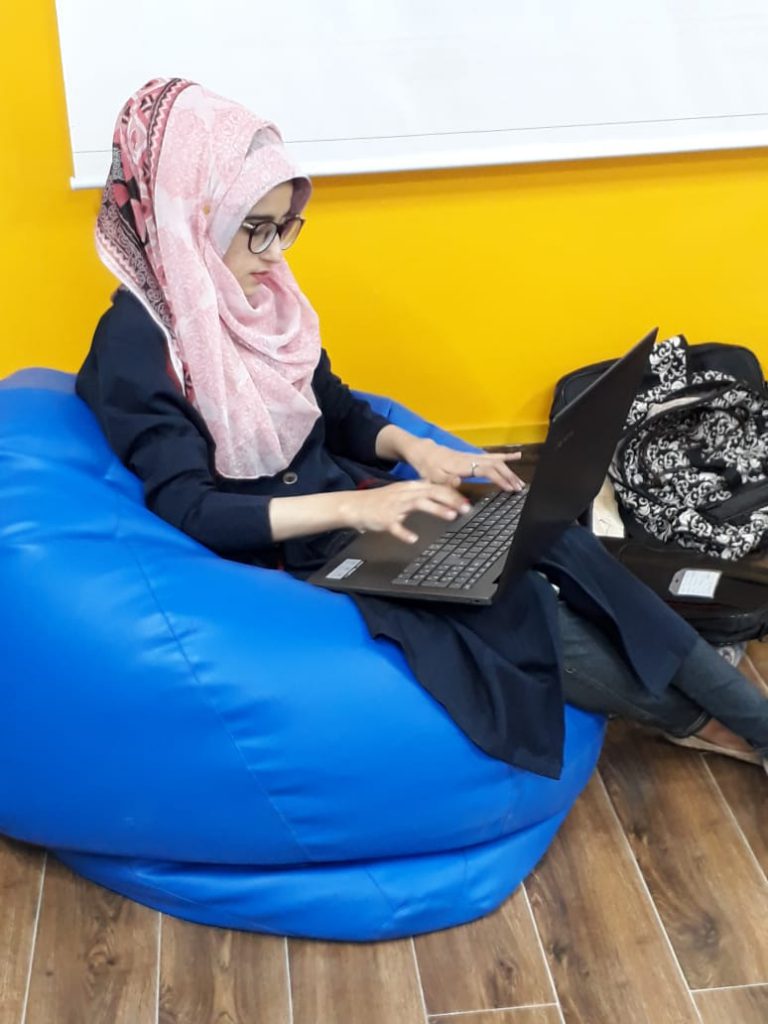 How does your work contribute more broadly to promoting girls' and women's empowerment in Pakistan?
The mission of the program is to empower the girls and women by making them competitively employable. IT is the fastest growing industry in the world. If we can bring some of these girls into the mainstream, they will help balance and equalize roles in the family and contribute to improving the economy of the country.
A lot of these girls lack self-confidence, so tying in soft skills with coding is important. We bring people from the industry to talk to the girls, especially women, because the girls can identify and connect better with them. Our students come up with these amazing ideas, but they can often undermine themselves, tending to think that their ideas have no value. So, we try to help them to build their confidence. Then we have sessions to create awareness about the young women's rights and teach them how to respond to situations of discrimination or harrassment. Our trainers are professionals in their relevant fields and we want these girls to see the trainers as role models and say, "I want to be empowered like you".
A lot of networking also happens through this program. On the first day, I make sure to meet each girl personally. I ask, "How many of you are sisters? How many of you are friends?" Often, the sisters and friends are sitting together. I don't tell them why I'm asking, and then, once they've answered, I tell them to get up and swap seats with other girls in the program, girls they don't know. I tell them, "This is where you're sitting from now on. By the end of these four months, I want you to make at least three new good friends whom you can trust." I explain to them that the traction and success of this program are in part because of good relationships. In fact, my local partner, Faiza, and I met just two years ago at a similar session and we just clicked. I tell them, "You might also meet someone like this and find it can become a long-lasting friendship." The girls are between 15 and 25 years old, so each one has a long life ahead of her. I want them to be free to make mistakes and learn from them, but I don't want them to struggle as much as we did in our generation. And of course they can learn from the mistakes we made, too.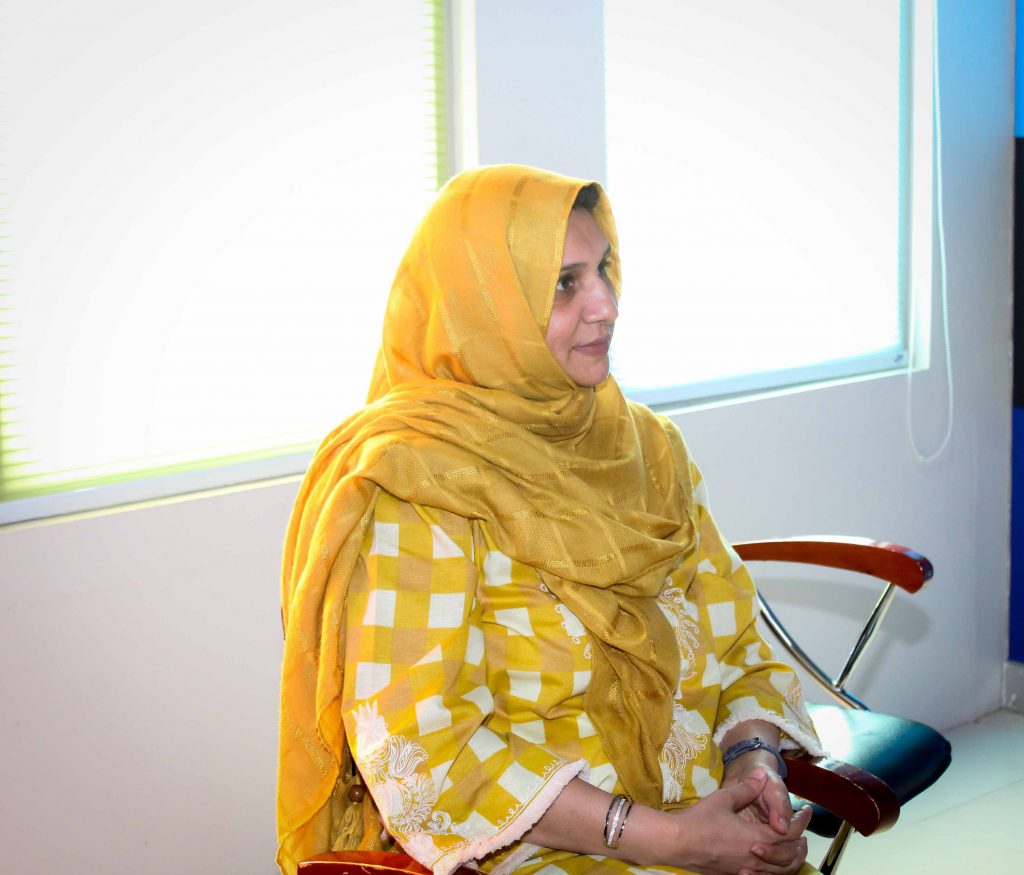 How can individuals support your work?
We are thinking about partnering with other organizations because there is a strong interest in taking this to other areas in Pakistan. However, to do that, we need individuals and organizations to support the program financially and to help create awareness about the program.
I was able to bring on board one local organization, from Karachi, who agreed to sponsor 15 girls per program. We need more support that is ongoing so that I don't have to worry about bootstrapping and can concentrate instead on the actual training and content.
One of the things really close to my heart is a work re-entry program for women. We have been collaborating with Women in Tech in Pakistan to start a re-entry program for women that consists of a boot camp with 5 or 6 technology/coding workshops and 4 or 5 soft skills workshops.
We're also trying to bring the latest trends in technology to Pakistan. Last year I was able to collaborate with an organization in Toronto, CryptoChicks, to bring blockchain training to Pakistan free of charge, with an emphasis on girls. Because blockchain is really new to Pakistan, we're opening it to both girls and boys.
It's a huge mission, a huge responsibility. We just started, and I had no idea that the digital gender gap was so huge. I believe I've been making a difference, but I can see there is still so much to be done.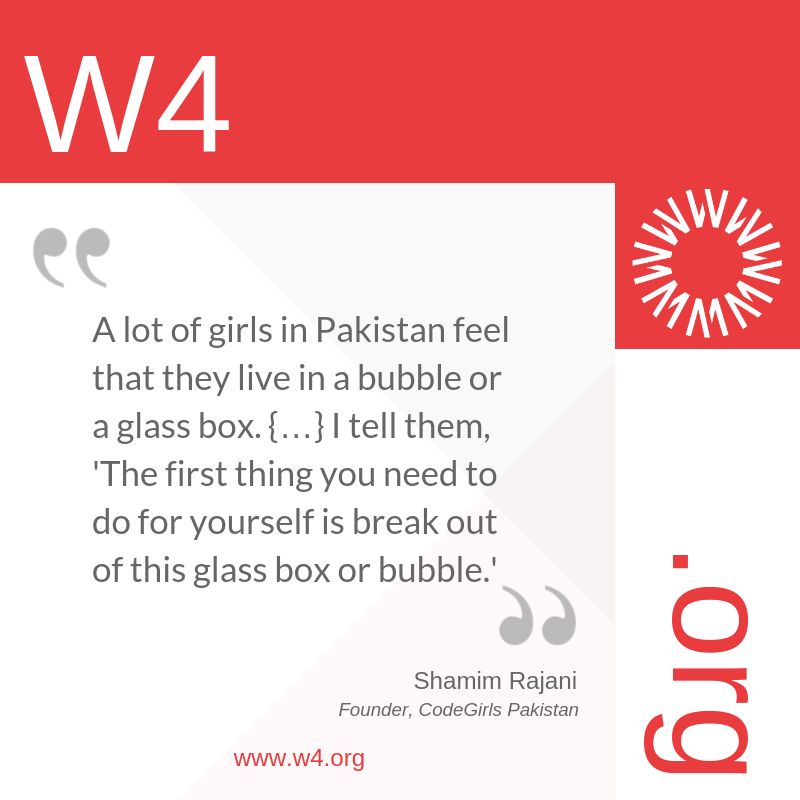 Would you like to add anything else?
We need to stop treating girls and boys differently. If we want misogynistic behavior in the corporate world to disappear, we need to start with values and attitudes in our own homes. As parents, we need to make sure that we don't tell our girls to play only with certain toys while boys can play with engineering kits.
A lot of girls in Pakistan feel that they live in a bubble or a glass box. They're raised to believe that they are very delicate and they fear that, if the box breaks, they won't know what is going to happen. I tell them, "The first thing you need to do for yourself is break out of this glass box or bubble."
We need to allow girls and women to make their own career decisions rather than imposing ideas on them. And we need to enlighten men, who often don't let women step into software services positions because they believe that women aren't fit for this work. It's time to drop these misguided attitudes and this misogynistic behavior and allow women to grow in the same sector.
Girls and women do an amazing job. I have a team of 60 people with 5 project managers, 3 of whom are women. You have to give girls and women the opportunity, and you have to remind them that they are smart and capable. I think that goes a long way.