W4 ambassadress, actress, and model Clémence Poésy has teamed up with fashion label Pablo to design a fabulous, one-of-a-kind tee shirt whose sales will help fund W4's girls' and women's empowerment projects around the world!
The tee, which will be on sale in Pablo stores and online from September 2014, is part of a special collection of designs by Clémence for Pablo. The print – "The Mighties – Live 'n Loud at W4" – evokes the idea of a rock band and plays on serious ideas: amplifying women's voices and voicing support for girls' and women's empowerment. In the French newspaper, Le Figaro, Clémence explains her inspiration:
"The idea was to get a message across with subtlety and playfulness, through this t-shirt which has a rock band feel and that you want to wear over time and mix with other items."
Upon joining W4 as our Ambassadress, Clémence emphasized: "I want to contribute to innovative, diverse, and ambitious projects that will enable girls and women to escape from socio-economic deprivation". With creativity, generosity, and beauty, she is doing just that! Her latest, Mighties T-shirt campaign will raise crucial funds for W4's projects.
Join Clémence Poésy and W4's #WomenAreMighty campaign today to support girls' and women's empowerment around the world!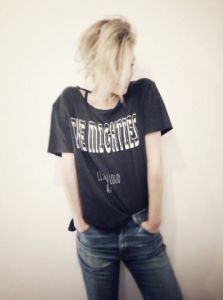 We invite you to buy the Tee , take a selfie and join our #WomenAreMighty campaign on W4's social media.  And/or spread the word about our work on your social media by posting about a woman or women you consider mighty, citing W4#WomenAreMighty!