W4 is proud to be supporting its field project, Why-Not Women, a student association that works to promote women's social entrepreneurship around the world. During the upcoming year, its co-founders, Mathilde and Bérengère, are venturing on a global tour to help 6 women social entrepreneurs grow their businesses and increase their social impact.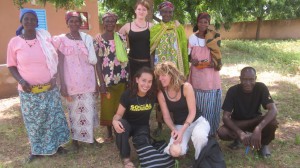 One of these inspiring women social entrepreneurs is Meredyth Bowler-Ailloud, Founder of W4's field project, PagaBags. PagaBags works in partnership with women's associations in Burkina Faso — female waste collectors, weavers and sewers — to create and market handbags made of a beautiful hybrid material of recycled plastic woven with cotton. This social enterprise empowers local women within a market-oriented framework, offering them decent work and a sustainable income, while also improving the living and environmental conditions of those in the neighbourhood in which they work.
Following their recent one-month mission to support Meredyth and the Paga workshop, Mathilde and Bérengère of Why-Not Women tell us more about the PagaBags endeavour with W4.
Could you tell us a little about Meredyth and how she came to launch PagaBags?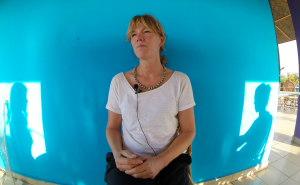 Meredyth had been working for several years on waste management projects in Burkina Faso's capital, Ouagadougou, where plastic bag waste was the most serious problem she had to face. There were no strategies or outlets to reuse or recycle these bags — bags with terrible environmental and health impacts, especially in the city's poorer neighborhoods. But then Meredyth discovered an association called Gafreh, located a couple of hours south of the city, which had started to weave plastic with cotton to create a new material.  "What a great idea," she thought. Inspired by this project, she proposed to join forces with local women waste collectors and a group of talented women weavers in Bogodogo, a neighborhood she knew very well, in order to create an innovative, beautiful material, which they would then use in the design and creation of handbags and other fashionable products.  In September 2013, she made a life-changing decision to leave her job in the NGO world and launch PagaBags. In her own words :
"Why PagaBags? Well, having worked many years with the informal sector of women waste collectors in Ouaga, I was sensitive to the miserable conditions in which these women barely survived and yet at the same time I was impressed by the abundance of traditional talent among women in the field of weaving and artisanal creations in general. I thought it would be possible, under the right and fair conditions, to join forces with these women, from the waste collectors to the really talented women weavers and sewers. PagaBags is a socially inclusive project that creates decent jobs and improves livelihoods by designing and making handbags and accessories from recycled plastic bags, sourced by the waste collectors, recycled by the plastic cutters, woven by the weavers, and handmade by the sewers — 100% made in Burkina Faso".
Could you explain how PagaBags operates and tell us more about its efforts to empower local women and reduce pollution?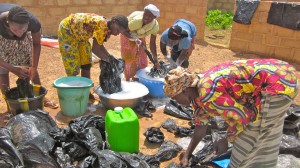 Meredyth helps organize and professionalize the local women's associations — weavers, sewers, and plastic collectors — providing the impoverished women weavers and sewers with technical training and financial support and securing decent working conditions and pay for them, while also ensuring decent wages for plastic collectors (through the social enterprise's regular purchase of used plastic bags) and weavers (by establishing decent pay and by pre-financing production).  As Meredyth points out : "Empowered people have choices and are in a position to take action, enabling them to better influence the course of their lives. Empowerment is a universal concept that applies to the PagaBags business model, a business model based on respect, understanding, pride, information-sharing, and other important values, as well as on the idea that the key to success lies in social and economic satisfaction". The means to the women's empowerment are intricately integrated within PagaBags' business strategy: developing women's skills, providing them with training and opportunities, and promoting a brand that embodies social responsibility and unique quality. 
How is PagaBags measuring its impact? What kind of indicators does it use?
To begin with environmental impact: Meredyth calculates how many hundreds of kilos of plastic bags have been bought and recycled by PagaBags — plastic bags that would otherwise remain in the streets or be burned, producing dangerous fumes. "Using plastic bags in our production will not completely solve the problem of pollution in Ouaga," Meredyth observes. "But we are definitely setting an example and raising awareness." As for social impact: "When we first started, [the women] did not have a legal status for their associations. They did not have bank accounts. Now they do. It may not seem like a big deal, but for a Burkinabé woman it means a lot to have a bank account." 
PagaBags is a humanitarian project as well as a business partnership. Meredyth has established a business model with an ethical code to which she is committed. This ethical code covers targeted social and environmental improvements and is expressed in terms of organization, strategy and goals. The positive outcomes are reflected in the number of jobs created, the capacity of the women's associations to manage and meet quality standards, the strict use of recycled bags, etc.  PagaBags' adherence to its ethical code is regularly monitored by Women's WorldWide Web. 
What is the primary market for PagaBags' products? 
PagaBags directly exports its products to the US and France, with hopes to further tap into European and international markets. Consumers in Europe and the US, from 20-year-olds to 70-year-olds, are increasingly attracted by the products' design and quality as well as by the great appeal of the social enterprise's commitment to ethical business practices. 
Most sales have been achieved through Facebook or thanks to "PagaParties", Tupperware-style events spontaneously organised by clients. During these PagaParties, Meredyth gets to talk about the PagaBags project and presents a display of handmade bags  and accessories in a very convivial setting — one of conversation and exchange, which helps create a better understanding of how people struggle and yet also survive, thanks to their talent and endurance, hope and perseverance. 
How can individuals across the world support PagaBags?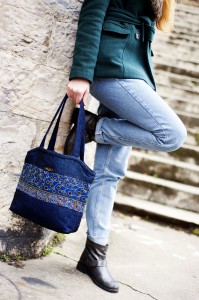 According to Meredyth, the challenge has always been to innovate, design and create high-quality material and products, and to make sales at a price that allows the business to cover the additional production costs linked to their ethical commitments, both socially (via onsite training, decent wages, etc.) and ecologically (using organic cotton, toxin-free dyes, etc.). During 2014, the production side of Paga Bags' business strategy was successful: "We have a beautiful, quality, original, innovative collection of products and we have federated local artisans in a common business venture".  In 2015, PagaBags will be devoting energy to increasing its clientele and reinforcing marketing and communications efforts behind the label, "PagaBags : Good for people, good for the planet." As Meredyth says: "Selling on the internet is great ; I get feedback from clients and it is very encouraging. But PagaBags needs distribution, because distribution means quantity, and quantity means more production and more job creation.  I will also  be actively looking for private-sector sponsors interested in co-branding ventures to help PagaBags get through the difficult early years of development. The social and ecological costs that PagaBags has internalized form the lion's share of our overhead production costs."
The best thing that an individual can do to support PagaBags is to have fun purchasing its products and become a loyal client of the brand! With every purchase of a PagaBags product, customers directly participate in improving women's living conditions and freeing Ouagadougou's streets of plastic bags. You have the power to make consumer choices that support the creation of a more fair, sustainable society for all. 
Join the PagaBags community today!
See Mathilde and Bérengère's full interview with Meredyth below: