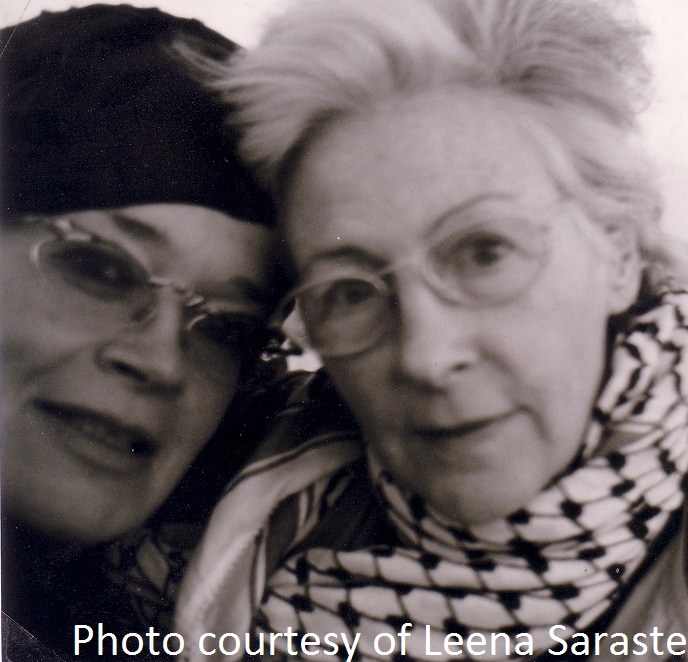 Women's Worldwide Web is honored to feature the work of anthropologist and oral historian, Rosemary Sayigh, who helps to give voice to Palestinian women and illuminate their essential role both in supporting their families and in rewriting the history of the Palestinian people.
Women have been Rosemary's key to deciphering the complex history of Palestine. Many Palestinian women have invited Rosemary into their homes—residences that serve as microcosms of Palestinian society—and there Rosemary has been able to observe interactions and listen to conversations and soliloquies, all the while scrupulously recording the women's perspectives on Palestinian history.
Rosemary's first experience of Palestinian society was in the refugee camps of Beirut. "When I first started living in Beirut in 1953, newly married to Yusif Sayigh, a Palestinian refugee from Tiberias, I knew absolutely nothing about Palestine or Palestinians," she recalls. "It wasn't until I began staying with Um Joseph—my mother-in-law's sister—that I began to understand the actual experience of Palestinians and the ways that the loss of their land and homeland had ruptured the lives of Palestinian villagers."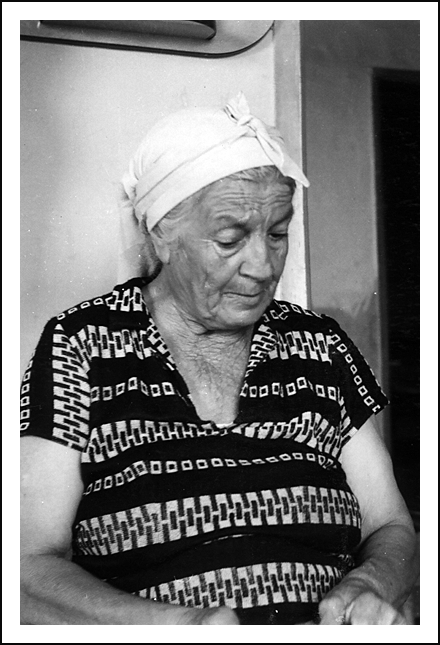 As an anthropology student at American University of Beirut in the early 1970s, Rosemary was mentored by several inspiring Palestinian women: Um Joseph, Um Hussein—a widowed cleaner at the Bourj al Barajne camp—and Um Mustafa, a literacy teacher for a local NGO. These women discussed their daily lives in the refugee camps with Rosemary and shared their memories of Palestine.
In Voices: Palestinian Women Narrate Displacement, Rosemary assembles interviews she conducted with 70 women from the Gaza Strip, the West Bank and Jerusalem between 1998 and 2000. As the women recite the stories of their lives, the reader witnesses the effects of displacement as experienced by the region's women.
The recording and collection of individual life stories offers a powerful means of re-thinking history and its numerous social transformations. In her work, Rosemary aligns the life stories of Palestinian women with events in the region's history. The history of Palestine is, she considers, largely one of displacement: "displacement is a defining experience of Palestinian people in modern times. Indeed, one of my research aims was to see how many forms displacement could take, how women have experienced displacement, how they narrate it, how they integrate displacement into larger narratives of 'destiny', and how their stories differ from those of men."
In Voices: Palestinian Women Narrate Displacement, we see history permeating every aspect of Lily's life in the Gaza Strip, Aida's in the West Bank, Sara's in East Jerusalem, and so on. Like many others, these women got married in the camps, gave birth to their children there, and then spent their lives as nomads of sorts—moving with their families from city to city, camp to camp. Behind Rosemary's oral history project lies her passionate belief that these women's memories and the details of their ways of living and dealing with displacement must not be ignored or forgotten. They must continue to be recorded, reported, and passed down from one generation to the next.
Jamila's story of displacement is, in its many dislocations, representative of others in the voice-archives of Rosemary's research: "My mother has Lebanese origins and I also have relatives in Lebanon. My father migrated from Palestine in 1948. We lived and grew up in Syria. When I got married I moved from Syria to Libya. We stayed there for three years and then the Libyan government threw us out," Jamila recalls.
Recently, Jamila resettled with her family in Gaza—a 360 square kilometre strip of land that houses 1.6 million people, 70% of whom live below the poverty line. She has two children and attends a dress-making course with the aim of being able to support her family. At the beginning of her voice recording, Jamila's tone is remarkably cheerful and energetic. When introducing Jamila to readers, Rosemary highlights her resilience and optimism: "Though forced to live in a refugee camp in Gaza—hardly a 'desirable location'—Jamila will create a home here for her children and husband."
Voices: Palestinian Women Narrate Displacement invites the public to reconsider stereotypes concerning the role of women in Palestine and in the Muslim world. Rosemary is keen to ensure that women's identities are not over-simplified and reduced, presenting them as mere victims of conflict, expulsion and oppression. On the contrary, as she sees it, women are heroes, consistently assuming the crucial role of sheltering their families from the hardships of abject poverty and war:
Women have been a basic element in the Palestinian capacity to survive poverty, oppression, exile. They have been models of courage, tenacity, resourcefulness and humour. Though all were victims of expulsion and of gender subalternity, I would never think of them primarily in these terms, but rather as people who knew/know how to live against poverty and oppression. Palestinian women have the inner resources to make a good life for their children. They pack, and move, and set up again in a new place, among new people.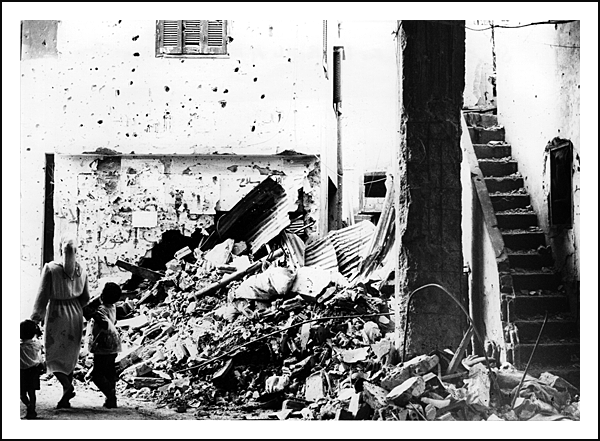 Indefatigably, day after day, women struggle to defend their families, to provide their children with an education and a safe dwelling—wherever they are forced to resettle. While they are often excluded from conventional historical narratives, women continue to assume great responsibilities behind the scenes, within their families and their communities. The voice recordings found in Voices: Palestinian Women Narrate Displacement provide a unique opportunity for us to discover these essential histories by listening to the sometimes shy but always courageous voices of Palestinian women.   
We invite you to listen to their stories in Voices: Palestinian Women Narrate Displacement.
Dr. Rosemary Sayigh is an anthropologist and oral historian. Since 1953 she has been based in Beirut, Lebanon. She is the author of numerous publications on Palestinian history and Palestinian women, including: Palestinian: From Peasants to Revolutionaries (Zed Books, 2008),  "Women's Nakba Stories: Between Living and Knowing" in Ahmad Sa'di and Lila Abu-Lughod eds. Nakba: Palestine, 1948, and the Claims of Memory (Columbia University Press, 2007),  "Product and producer of Palestinian history: stereotypes of "self" in camp women's life stories" in Journal of Middle East Women's Studies (2007), "Remembering Mothers, Forming daughters: Palestinian Women's Narratives in Refugee Camps in Lebanon"in Ronit Lentin and Nahla Abdo ed. Dissemi-Nation: Narrating Palestinian/ Israeli Gendered Auto/Biographies of Dis-Locatio. Oxford and New York: Berghahn Books 2002., Too Many Enemies: The Palestinian Experience in Lebanon (Zed Books, 1994), "Encounters with Palestinian Women under Occupation" in Journal of Palestine Studies (1998), "Femmes Palestiniennes: une histoire en quete d'historiens" in Revue d'Etudes Palestiniennes (1987), "Researching Gender in a Palestinian Camp: Political, Theoretical and Methodological Issues" in Deniz Kandiyoti ed. Gendering the Middle East: Emerging Perspectives. London: I.B. Tauris 1996.
© Women's Worldwide Web 2011