#InHerOwnWords
Can you tell us about yourself, your family and where you come from?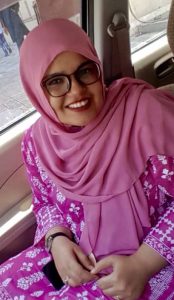 My name is Urooj and I am 27 years old. I am married and I have a 6-year-old son.
I got married when I was only 19. In our country and societies, most girls get married at a young age and, because of marriage, our studies and careers are often disrupted. We have to prioritize our families' needs and wishes. Will our family allow us to study or not? We have to think in terms of what everyone else needs and wants; that is the mindset. When I got married, I couldn't continue my studies, but later I was able to go back to studying.
I used to be a teacher, and I taught for seven years. It was the only job I could do because it was part-time. Unfortunately, there aren't many part-time job opportunities. Most jobs are full-time and it is very difficult to do a full-time job when you have kids and a family to take care of. I didn't really enjoy teaching, so I decided to leave my job and look for work that I could feel passionate about. That's when I found this opportunity with CodeGirls.
I found out about this training course when I was literally in the middle of Googling, "How to use a MacBook" and "what can I do on a MacBook?" That's when I saw an ad about coding and Python. I started looking for coding programs nearby, and I found CodeGirls. I've loved this program ever since I started, and I have met wonderful people, like the Founder, Shamim Rajani. I found coding really interesting and, as it's something that I could pursue as a career, I've been doing it ever since.
What have you learned in the training program?
I graduated a month ago. I was in the program for 9 months. During the training, we learned HTML, CSS and JavaScript. In Phase 2 of the course, we had options like WordPress, PHP and NodeJS. I chose NodeJS, which consisted of 4 or 5 courses.
What did you most enjoy about the training program?
One great thing about the training program is that after Phase 2, we are confident enough to learn independently. If there is another coding program or language that I need, I can just Google it and learn it by myself. Now that I know the basics, I understand how things work.
How has the training program helped you so far?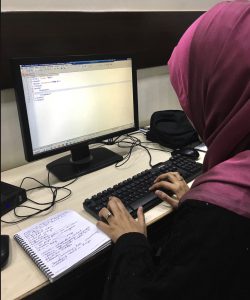 I managed to find a part-time job doing what I love! I can still hardly believe it. I work here at Genetech, who were kind enough to offer me a part-time job, which makes it easier for me to manage my family life. I've just started the job and I'm enjoying it so far.
Do you have the full support of your family?
They're supportive as long as I can manage everything at home too! It's not just my husband and my son that I have to think about and take care of: it's also my entire extended family. And there are my parents-in-law and their families too.
What are your professional aspirations?
I definitely want to keep working in the tech sector, Inshallah. It was hard to find a job that I love. In the past, in addition to teaching, I also worked in a call center. I have struggled for years to find a job that I really enjoy and feel passionate about. I've always thought that people who find their work enjoyable are very fortunate because, as the saying goes, "If you do what you love, you won't have to work a single day." I really enjoy doing this kind of work and I definitely want to continue working in the tech sector.
It's so unexpected for me because I didn't have an IT background. I studied accounting for many years, and then I did a Masters in International Relations. So, when I started the coding program, it was a completely new thing for me. The training program was excellent and I've had the chance to learn so much.
Is there anything you would like to add?
In Pakistan, girls don't get as many opportunities as boys, and when they do, they face the challenge of convincing their families to let them go out and pursue an education and career. Even if families agree to let their daughters go out and study and work, many girls and women are reluctant to do so. Girls and women face many barriers. For example, co-education: sometimes it's difficult for girls to go to university when it's a mixed university because families disapprove of boys and girls mixing in the same classes.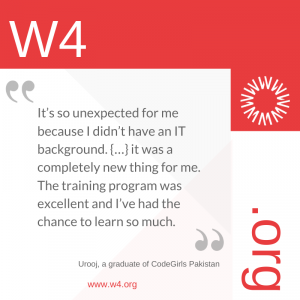 I think the CodeGirls team is doing an incredible job when it comes to convincing parents to encourage their daughters to take part in the program. Also, as it's a course designed exclusively for girls, that's a plus for many parents. Although it wouldn't have been an issue in my family, I know many young women for whom it would be a problem if the course were for both boys and girls.
I don't think there are any other similar courses available in the technology field for women like me. Obviously, there are other IT training programs, but you would probably have to attend university and go through a whole 2- or 4-year program. I think I've learned as much here in just 9 months as some students learn in college in 2 years! It's great that we get to learn so much in a very short time. Also, given the constraints on women in our society, this kind of IT training opens up employment opportunities as it enables women to work from home. It's especially helpful for women for whom it's an issue to go out of the house to work.
I think this program is one of the best IT training programs available for girls and women in this city and region!