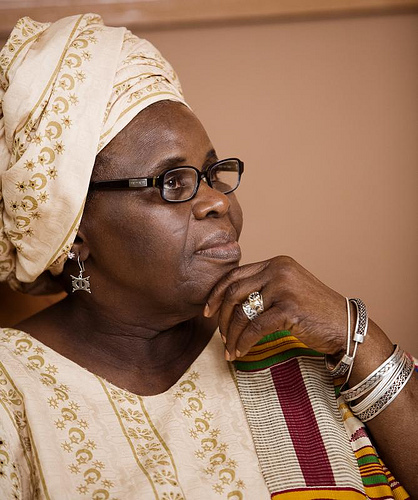 In celebration of Poetry Month, Women's Worldwide Web pays tribute to a woman remarkable for her generosity, her vivacity and her unique vision of the world—the renowned African poet, Ama Ata Aidoo.
Ama Ata Aidoo was born in the central region of Ghana (then known by its colonial name, the Gold Coast) in 1942. She studied at the University of Ghana where, influenced by the oral African tradition and by historical events that marked her life and her country—for example, Ghana's independence and the post-colonial period in Africa—she began her literary career with the production of her first play, The Dilemma of a Ghost, in 1964.
Aidoo's writing reflects various central aspects of Africa's social and economic history—the heritage of slavery, the consequences of oppressive political regimes, as well as brutal gender and racial conflicts. Above all, Aidoo's work is representative of her own life and her struggle to find her identity as a free, independent woman within Africa's rather patriarchial society.
"In so many great literatures of the world, women are nearly always around to service the great male heroes. Since I am a woman it is natural that I not only write about women but with women in more central roles, the story which is being told is normally about women…"
                                                                            Ama Ata Aidoo
Her major concerns, as a writer, revolve around the idea of challenging and questioning the role of African women in modern society. Aidoo's poems, novels, and plays establish a feminine consciousness and strongly advocate for women's emancipation.  In her major pieces—Anowa (1970), No Sweetness Here (1970), Our Sister's Killjoy (1977), and Reflections from a Black-Eyed Squint (1977)—she develops female characters who are active, creative, successful, intelligent, and, most strikingly, defiant.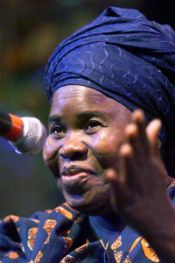 In addition to being a writer, Ama Ata Aidoo is a professor, an advocate, and a passionate activist. Passionate in her defense of women's rights, she created the Mbaasem Foundation, which aims to raise awareness about women's issues and support for African women writers. 
Mbaasem—which means "Women's Words" or "Women's Affairs"—was conceived as an "artistic and literary haven", a peaceful and convivial space in which women can devote themselves to writing and expressing themselves through any artistic medium. The Mabaasem Foundation encourages women to be creative and productive, and further assists them by facilitating their access to those resources necessary for the publication and distribution of their stories. To these ends, the Mbaasem  Foundation  holds writers' workshops and offers women writers the opportunity to meet with consultants who can guide them through the processes of editing and publishing.
The Foundation can also be thanked for the development of the Ghana Women Writers Forum project—a community (financed by the European Union) that serves to further facilitate fruitful exchanges between women writers—and the creation of a youth education program targeting vital issues such as HIV/AIDS. In addition, the Mbaasem Foundation seeks to support projects that help rural and grassroots cultural organizations.
The Mbaasem Foundation continually strives to promote the progressive ideas of Ama Ata Aidoo, a woman who, through her artistic talent, her commitment, and her conviction, has managed to open doors for the women of her community and her country.
© Women's WorldWide Web 2011