The Afghan Women's Writing Project (AWWP) works to promote Afghan women's empowerment and economic independence by strengthening their writing and computer literacy skills, all the while encouraging the inclusion of their voices in Afghanistan's national dialogue.
Its Founder, Masha Hamilton, first envisaged the project after she saw a recording of the execution of Zarmeena, a mother of seven who was accused of killing her husband. The execution was carried out by the Taliban in Kabul's Ghazi Stadium on November 16, 1999. This tragedy convinced  Hamilton that she must use her experience as a journalist to uncover the stories "beneath the burqas" within Afghan society, to uncover and amplify the voices of women too often left unheard. 
Hamilton's direct experience of the denial of Afghan women's freedom of opinion and expression was instrumental in the creation of AWWP.
Fuelled by the belief that freedom to tell one's own story is an important human right, AWWP gives women an opportunity to develop their writing and poetry skills with top writers and teachers in a secure, online environment. Thanks to an oral stories component, the project also includes the voices of illiterate women and women with disabilities. AWWP also plans to increasingly hold workshops in Afghanistan's local languages as a means to include women who do not speak or write in English.
Women are invited by word of mouth (owing to safety concerns) to participate in AWWP's programs and are offered computer literacy training, laptop computers, and, in some cases, Internet access in their own homes to help them begin their journey as writers. 
Since its creation in May 2009, the AWWP has engaged nearly 300 Afghan women in its inspiring programs. By presenting their work to others and receiving constructive, collaborative feedback, women are able to reach their full potential as writers, to gain crucial self-confidence and to empower one another to become leaders in their local communities. The project's dissemination of the women's work also serves to raise global awareness of the importance of encouraging women's economic and social independence. 
Lori Noack, AWWP's Interim Executive Director, tells us more about the project and how it enables women to bring change to their lives – one story, one poem at a time:
1. The Afghan Women's Writing Project (AWWP) encourages Afghan women's freedom of expression and "supports the voices of women with the belief that to tell one's story is a human right". What is your role at AWWP and what inspired you to work for girls' and women's empowerment in Afghanistan?
AWWP was founded by journalist Masha Hamilton as a response to the profound oppression of women in Afghanistan and the absence of any rights they had as humans, let alone the right or opportunity to express and develop their own voices. Our aim is to support girls and women in Afghanistan by encouraging them to express their thoughts, dreams, and visions via poetry or prose, by helping them to develop their ideas, then sharing them with the world in a safe but public forum. As one writer recently said: "AWWP became a school for me, not only to develop my writing skills, but also to understand who I am as a woman and to know my own voice. I began to see myself as an Afghan woman writer, a powerful being with tenacity and courage to meet life's challenges."
2. Can you tell us a little about your various programs, including your "Out of Silence" series, and how they are encouraging the social, economic and political participation of women in Afghanistan?
In addition to our online writing workshops, which partner Afghan women with international writers, educators, and journalists, we run a women-only internet cafe and office in Kabul, a facility that is also used for classroom workshops. In the other six provinces in which we work, the local staff holds monthly workshops, speaks at various women's groups, and generally spreads the message of the transforming power of written expression. For all workshops, we provide each woman with security and round-trip transportation.
In 2014, AWWP expanded to include an online workshop for women writing in Dari, and in 2015 we will add a Pashto workshop and will open a branch in Ghazni. These new activities open up opportunities for Afghan women who do not write in English. Other programs include the provision of laptops and internet service for writers in need, the radio broadcasting of AWWP writings in local languages across Afghanistan, publication opportunities for our writers outside of AWWP, and an oral stories component to capture the voices and stories of Afghanistan's illiterate women.
3. What key messages are you aiming to convey to visitors to your platform?
Our online magazine is one of the only platforms, if not the only platform, where the general public is able to find direct, daily expressions from women in Afghanistan, unfiltered by the media and other possible censors. We offer readers a unique opportunity to hear from the women directly via the posting of their works and to respond to them via comments, all of which the women cherish and often respond to, as often as they are able.
4. Among the stories of Afghan women that have recently been published on your website, is there one that you could share with us?
It's nearly impossible to choose a favorite from so many that we love! Our first bilingual anthology is at the publisher's right now and it was very difficult to not include twice as many pieces. Here is a recent one, though, that pits the winning power of the pen over the gun.
A gun, a pen
Dirty mind, clean heart
No future, good future:
You are one, we are millions.
You talk for yourself;
I talk for millions of girls
—living here.
You fear life;
(you keep a gun).
Your gun is weakness; my pen is strength.
Your gun hurts people; my pen makes them smile.
I am proud of life—
(I keep a pen and books):
You destroy, I build,
but I am not afraid,
I am not afraid.
Life is beautiful,
(things are good)—
I am alive.
I have a pen, I write, I talk.
I see my long life-journey, 
but you see only death, death of your self.
Remember,
you can kill me, kill her, kill him,
but you can never kill us all,
for you are one—we are millions.
You live in yesterday, I live
in tomorrow, and the day
after tomorrow
and the day
after that.
          By Maryam M.
5. What role can Afghan men play in promoting girls' and women's empowerment within the country? What are some effective ways to engage Afghan men and boys in the defense of Afghan women's human rights?
There is one common thread in the lives of each of the strong and determined Afghan women whom I have had the pleasure of meeting in person — each woman had a parent, often a father, who believed in her worth as a human being and who fought for her right to an education, even if it was in a secret school. Women and girls who have enjoyed this luxury have such a sure strength of spirit. They have such great respect for those who taught them that they are capable of anything if only they reach for the opportunities that come their way. Many of the writings on our website speak about this. Here are some small excerpts:
Saifora in "A Father's Love":  My father had a very sweet scheme of encouragement for us and, in return, we all would indirectly pay him our respect by respecting his desires for us…
Mahbooba in "My Grandfather's Gift": My grandfather has six children: one daughter and five sons and my father is the oldest son. There are thirty-seven grandchildren. He loves all of his grandchildren, but he loves me so much that he named me Mahbooba, which means beloved. He always says to me "You're my Mahbooba."
Norwan in "My Dearest Angel Father": You empowered me when you said, 'If I die, I am sure you will find your way, my wise daughter.' I am so very thankful for your kindness—a gift that now, since I lost you, feels like a dream.
Hila G. in "My Father, My Hero":
You faced many difficulties because of me, worked through the cold and hot weather
with tears in your eyes and calluses on your hands.
You took my hand and walked with me
showed me how to smile, and to defend against disaster.
You supported me when the world abused me.
You didn't leave me alone.
Oh my Father, my hero
I will go forward and fight for my rights. I will be a listener for others.
You showed how to find the light even in a dark room.
How to walk in the desert under the scorching sun.
You made me hopeful when I was lost
You showed me how to live in this dark world.
6. What are some of the challenges that the AWWP has encountered in developing its initiatives? For example, has your team encountered any specific difficulties when reaching out to Afghan women and encouraging them to share their stories?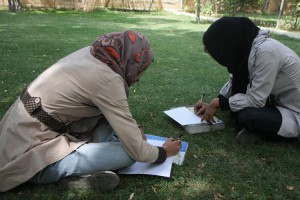 Our primary concern is always the women's security, which is why we never share photos, last names or any other identifying information about our writers. Since we do not solicit writers but only include them via personal introductions and invitations, women who come to AWWP typically have some safe place where they can write, whether at school, work, home, or, if they live in Kabul, the writers' cafe. Still, women will often pull back for a time owing to external pressures. We work with them to make the best choices for their personal safety. Some topics are more difficult than others to write about and, while we never pressure the women, we also push them to break through fears and find a new inner strength that comes through processing and sharing their stories. Our Editor-in-Chief, Susan Postlewaite, is brilliant. Every piece that is posted goes through her hands as she checks for security concerns, cultural considerations, etc., while exercising great compassion for the women and a desire to push them to reach their potential.
7. What role does the media, including social media, play in the lives of Afghan women and girls?
Social media is a growing force in Afghanistan and as one writer recently said to me, social media and technology will keep this country from ever fully returning to the repressive state that it once was. The world has opened up for Afghan youth and they will not be kept down. Education does that—our understanding grows, and with it our capacity to envision that which is currently beyond our reach. Our job, as advocates, is to encourage and enable that reach until the gap is closed and a new plateau is reached. 
AWWP of course exists only because of the wonder of the Internet and the opportunities it gives us to work with women whom we cannot otherwise access. It is an expensive venture, though. Internet in Afghanistan is not cheap, but it is the lifeblood of the program. The world is able to access first-hand, real-time musings of Afghan women only because AWWP has created this channel, this literary supply chain that feeds their thoughts to you by way of our magazine and social media platforms. We have more readers per month who read the women's works on Facebook than on our website.
What we sorely need, and this goes back to the 'challenges' question, perhaps, is a high-tech online software company to say, "We love what you are doing! Can we provide a software system designed especially for your online workshops?" My dream is to have that conversation with the big girls in Silicon Valley — they analyze, design, and fund a system that upgrades our ability to provide even more service for the women. 
8. What is on the horizon for the AWWP in the coming years? 
One of our key goals for the coming years is to train the Afghan team to take over some of the management roles and transfer more of the leadership to operate in Afghanistan under the umbrella of our NGO registration in Kabul. As we expand the Dari language initiatives, add Pashto workshops, etc., it will be important that Seeta and the team in Afghanistan take on leadership roles and grow the organization from within their worldview, using us as support. 
We are also developing an initiative called "The Passerine Project," developed in conjunction with now-board member, Shevy Smith, a Grammy-nominated songwriter and producer. Shevy works with groups of students to write songs based on poems by AWWP writers. These will then be performed in a closing concert where celebrities will read the original poems and then perform their musical interpretations. I cannot adequately describe for you the impact of these performances and the way that the students' lives are touched by this work. There are a few short films online and I'll share those with you – please watch for the one where a young man from Brooklyn, NY shares how the experience impacted him. It's beautiful.
The Passerine Project from Forte Poesy on Vimeo.
9. How can individuals get involved and support your work?
There are many ways people can join the AWWP family. You can mentor, if you are a professional writer, editor, or teacher. You can hold a reading in your own living room, host a poetry slam at your school (as did two girls from Clarkston, Michigan, who raised $600 for AWWP at the event), or help us by publicizing our new book or assisting with admin. The easiest way, of course, is to write a check that will help move the work forward. There is much to do in Afghanistan. And the women are ready and waiting for action.
© Women's WorldWide Web (W4) 2015