National Geographic's People's Choice Adventurer of the Year celebrates individuals who have made "remarkable achievements in exploration, adventure sports, conservation, and humanitarianism", and we're proud to announce that W4 Ambassadress Wasfia Nazreen is among the inspiring nominees for this year's title!
Pioneering Wasfia Nazreen has taken on the incredible challenge of climbing the highest 7 summits on all 7 continents as part of her Bangladesh on Seven Summits campaign. The objective? To raise awareness about women's rights in Bangladesh and empower the country's girls and women!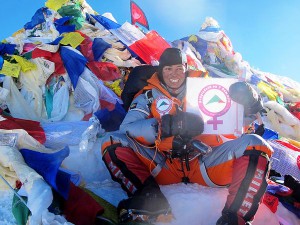 Photograph by Nigima Grimen Sherpa
When Wasfia successfully climbed Everest – becoming the youngest Bangladeshi and the first 'one-woman team' from Bangladesh to reach its peak – she dedicated her successful climb to the women of Bangladesh, saying "We have achieved freedom 41 years ago, but our women are yet to enjoy freedom".
Join us in supporting Wasfia in her work to highlight the tremendous capacity of Bangladeshi girls and empower them with the tools to achieve their dreams and overcome social barriers!
Don't forget to cast your vote for Wasfia every day until January 31, 2015 and stay tuned – the People's Choice Adventurer of the Year will be announced in February!