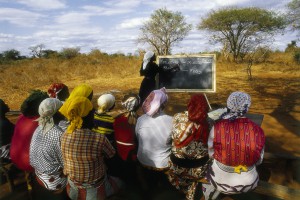 Women's WorldWide Web (W4) invites individuals and organizations to support grassroots girls' and women's empowerment initiatives around the world in a variety of ways, both financially and non-financially.
Giving
W4's fundraising platform mobilizes crucial financial support for grassroots organizations (non-governmental organizations and social mission microfinance institutions, whose mission is to combat poverty) that are working to protect girls' and women's human rights and promote their empowerment.
Our field partner organizations work at the community level to offer girls and women vital opportunities in: education, microfinance, entrepreneurialism, women's human rights, women's health, the environment and access to ICTs.
We carefully select and pre-screen our field partners so that you can give with confidence:  through W4, you can see how your donation is being used, at the grassroots level, to make a positive and sustainable difference.
You can choose from a portfolio of our (rigorously pre-screened) field partners' grassroots projects and contribute — even the smallest amount — to their life-changing, indeed life-saving, work.
Sharing and Inspiring
W4 is an online collaborative platform, co-created by a growing community of passionate men and women who aspire to a more peaceful, fair and sharing world—a world in which girls, women and their families are able to live dignified lives, free from the harms of poverty and the violation of their human rights.
We invite you to be a change-maker: not only through financial giving but also in non-financial ways, by sharing your energy, time, talents and expertise.  Whether you have a few minutes or a few hours to give, and whatever your background, talents and skills, you can be part of the solution.
WOWWIRE
W4 raises awareness of the global imperative to protect girls' and women's human rights and illuminates the huge potential benefits—for everyone: girls and women, their families and communities—of accelerating girls' and women's empowerment.
WOWWIRE is a forum for sharing insights about the state of girls and women in the world today and for highlighting initiatives that are helping to improve the welfare and life prospects of girls and women around the world.
 
Everyone concerned about girls' and women's empowerment is invited to share his or her perspective on WOWWIRE.  We welcome contributions from: general readers, writers, journalists, academics, experts on women's issues, artists, photographers, filmmakers, musicians, microfinance institution and NGO professionals, business professionals, policymakers and, above all, the admirable girls and women everywhere who are empowering themselves, building dignified lives and enhancing the wellbeing and prospects of their families and communities.