W4 Ambassadress, actress and model Clémence Poésy, teamed up with the French fashion brand Pablo to design a T-shirt, "The Mighties", in aid of W4's work and to raise awareness about our field programs around the world. To coincide with the sale of the T-shirt, W4 launched a #WomenAreMighty social media campaign to spotlight both women's resourcefulness and strength and the importance of amplifying women's voices and voicing the importance of protecting girls' and women's human rights.
We would like to thank our Ambassadress Clémence Poésy and the team at Pablo for being part of our collective endeavor to protect girls' and women's human rights and enable girls and women to be empowered, live and work with hope, dream bigger, and to lift themselves, their families and communities out of poverty!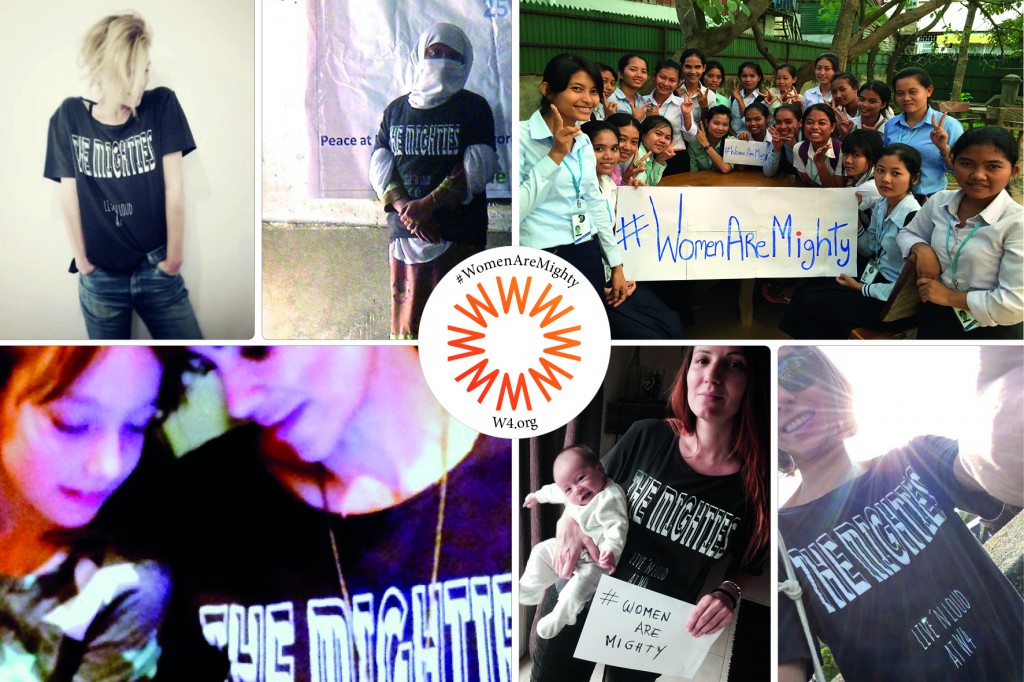 We would also like to thank you, dear friends and members of our W4 community, Mighty Women and Men, who participated in our #WomenAreMighty campaign. The campaign has received support from an audience spanning 27 countries! We've received wonderful selfies and pictures from around the world, from the tribal zones of Pakistan, to the Amazon forest, from DR Congo to Cambodia, from New York to Paris! Your participation has enabled us to send out a powerful message about the imperative and opportunity of protecting girls' and women's human rights and has achieved extensive, on-the-ground, positive impact in the lives of girls and women, and their families, around the world.
Below is a selection of your #WomenAreMighty pictures and quotes. Please do continue to spread the word about our work and share this page on your social media!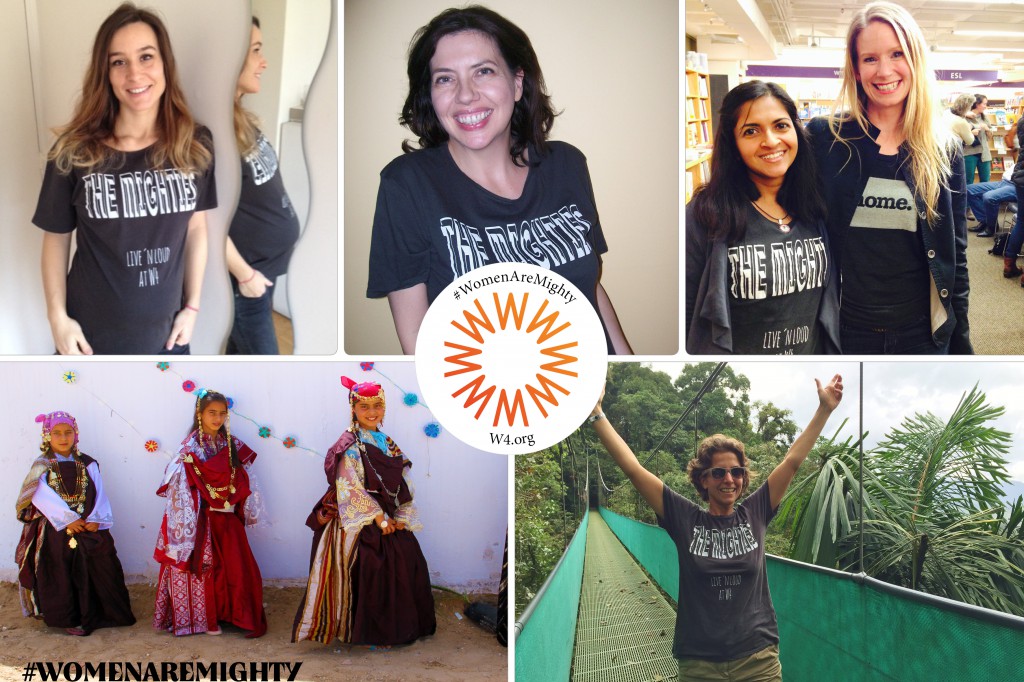 "We have to be our own best friends. I think women have to care about other women and fight for those who can't. I think it is one of the most important fights to lead right now… It's not a fight against anyone — it's a fight for women." – Anne (in the first picture on the right)

"I believe in the generosity of women, creating lasting change for the benefit of all: they never lose sight of their ideals nor let their family and friends down." – Bénédicte
"I am supporting women's empowerment because mighty women can change the world." – Anne
"All around the world, women are 'mighties', willing to make their world a better place to live. Let's support them!" – Ingrid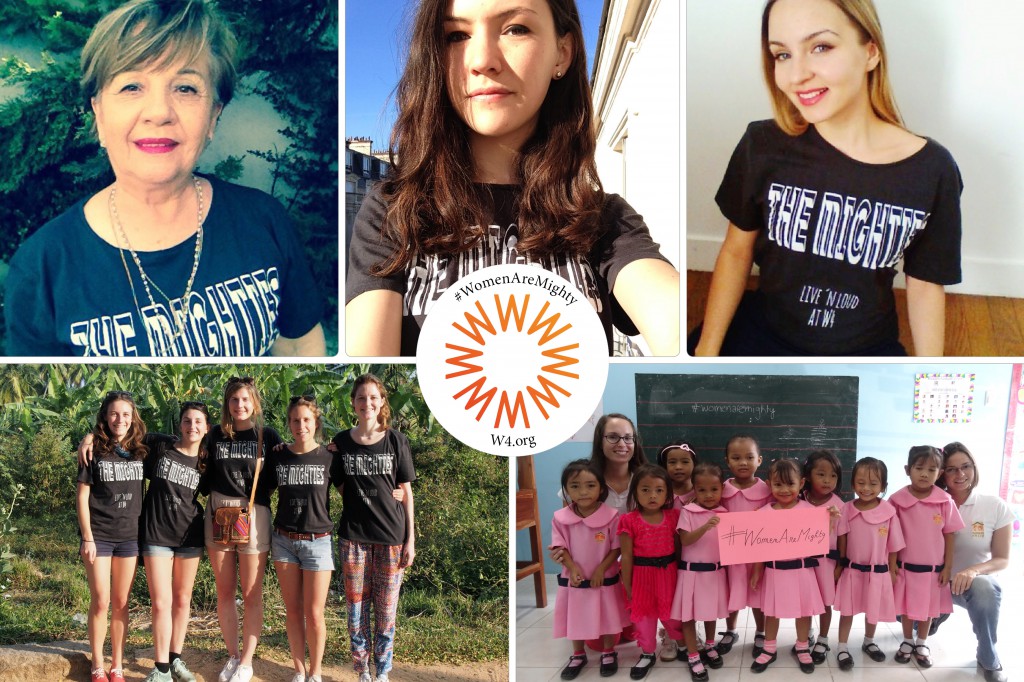 "I support women's empowerment because I believe in every woman's capacity to 'partake in the making of history' (as Joan Scott put it). I think it's about time the world realizes that gender equality and women's empowerment mean progress for humanity as a whole. Improving the inclusion of women in the economy as well as in policy-making is shown to contribute to the reduction of poverty and a more sustainable use of resources, among hundreds of other positive outcomes." – Margot
"Women who are born into challenging contexts, who are deprived of opportunities for growth and self-expression, continue to fight, despite the dangers and difficulties, to improve their own fates and the fates of those who share in their plight. It is these women, who choose to help others, whether distant strangers or close ones, whom I admire most. They are fearless, they are ingenious, they are MIGHTY." – Daria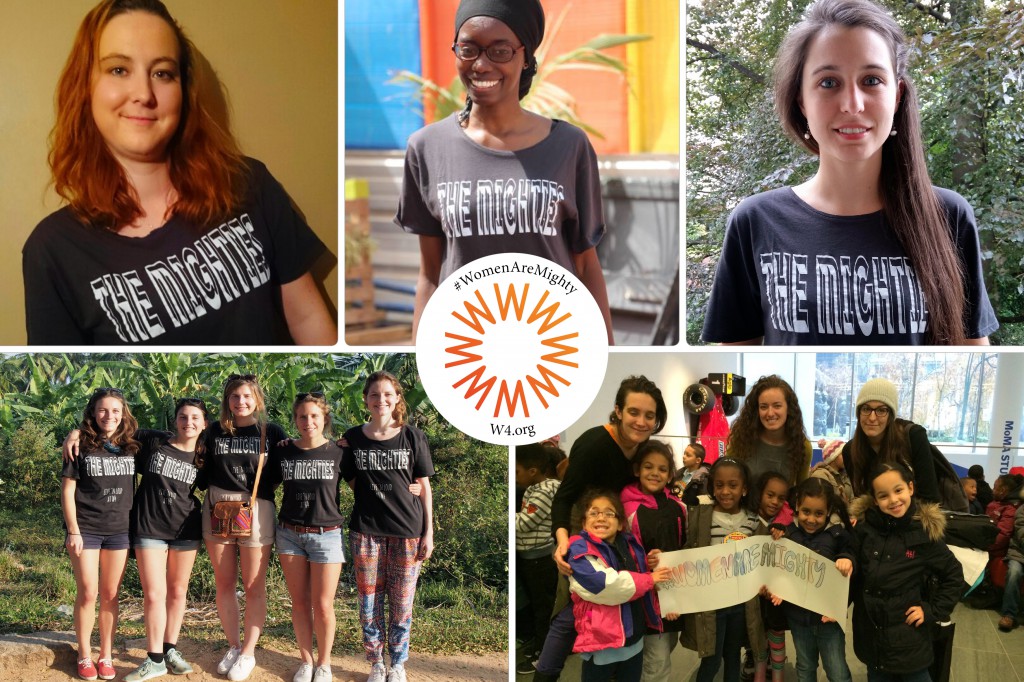 "Nobody can make you feel inferior without your permission." – Eleanor Roosevelt (chosen by Emilie)
"Women are the first school for children. They teach them essential life skills. When women are active and thrive, they push society forward. For all these reasons, I support women's empowerment." – Rama
"Women's empowerment is an extraordinary tool for development. We have to listen to their needs and protect their rights!" – Estelle
"Thank you Women's Worldwide Web for everything you do for our girls (and also for our boys, our mothers, and our fathers too)! We are all in this fight together!" – Cyndie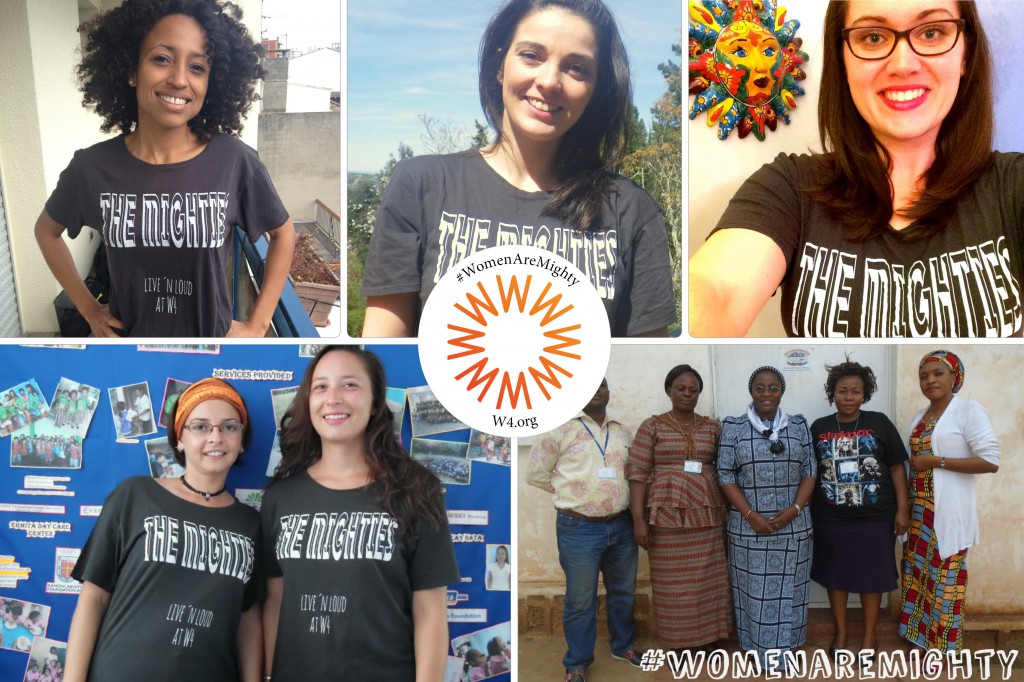 "It's only by fighting together to protect the rights of everyone that women and men can change the world and create more solidarity, freedom and justice." – Anouck
"My happiness lies in true and meaningful human connection. W4 makes me feel part of something larger than myself. It connects me to inspiring people who are changing the world, with even the smallest of actions, every single day of their lives. These are the people who are the mightiest of all." – Brittany
"Empowering women is progress for humanity: We have to make women's empowerment happen now! Support W4!" – Camille & Chloe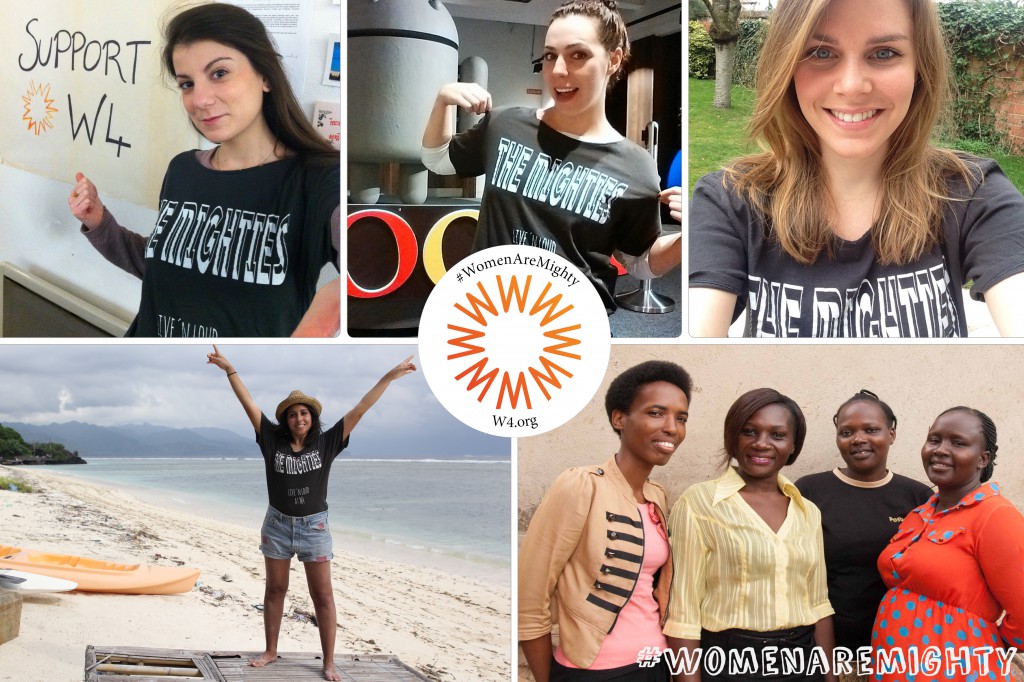 "W4 is the only organization that guarantees that all the funds raised go to girls and women on the ground. The projects that W4 supports are often located in rural areas, where big humanitarian organizations do not work, giving voices to women that we never usually hear! W4 sheds light on the incredible courage and resilience of thousands of women, offering them effective means to achieve their goals. That inspires me!" – Laurène
"We are only at the beginning of the @Women SenseTour – in Muslim countries (WST) – and we've already met many mighty women! Aicha Ech Chenna, Maha Laziri, Nora Fitzgerald, Khadija Elharim and Asmae Lamrabet. They are all fighting for women's rights in different domains: the rights of single mothers and their children; women's right to education even in remote areas; women's right to professional training and positions of responsibility; or even the right to say that it is not religion but interpretations of it that can be sexist or patriarchal. These women are mighty and we are honored to have met these role models!" – Sarah, on behalf of the entire team at Women Sense Tour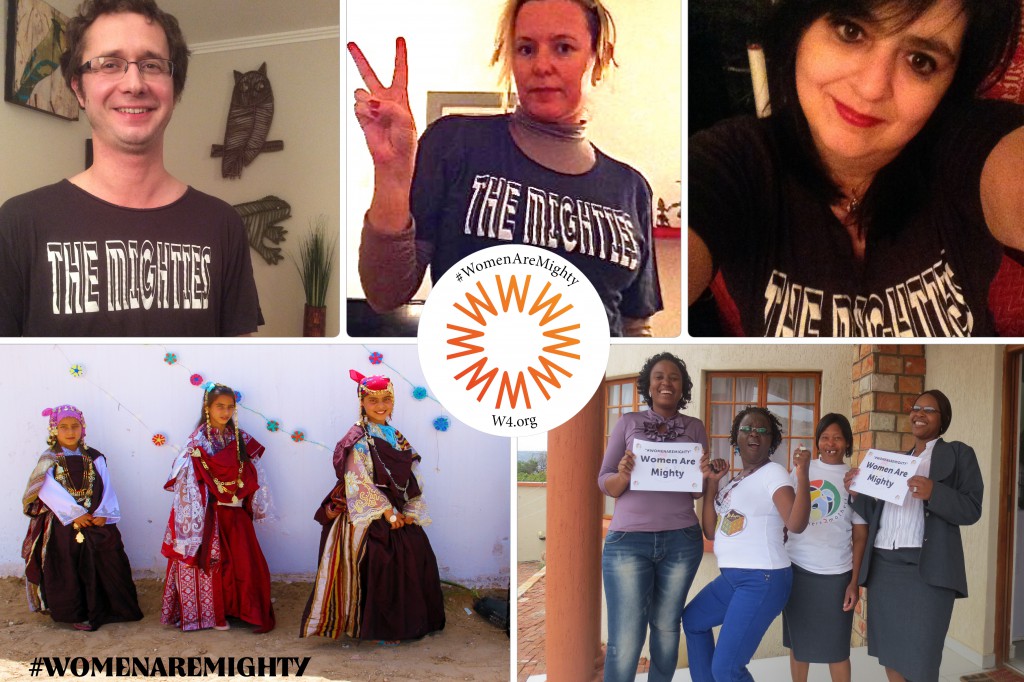 "We need mighty women and mighty men to work together for a better future." – Adrian
"W4 helps women around the world to live independently, with power and beauty! Support W4!" – Caroline
"Women are often brought up to believe that they are powerless and that they cannot make their own decisions. By supporting and empowering women them, not only are women's lives improved, but also the lives of men and their community." – Ariane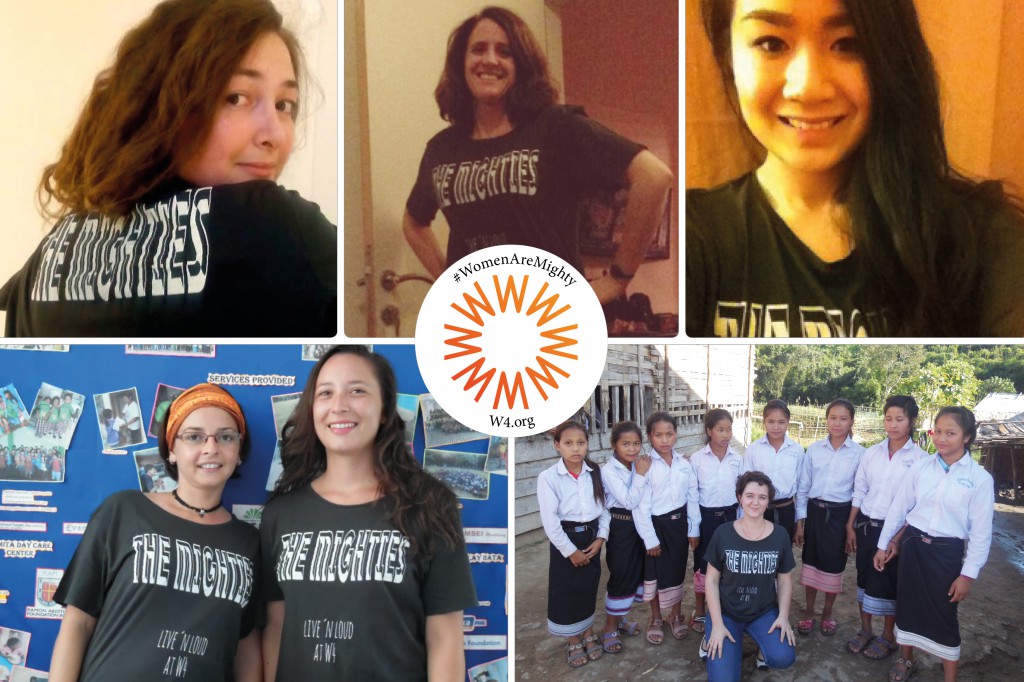 "We can all be strong and we can all be mighty; it's up to us and us alone to make that choice." – Catherine
"I believe in a better world. I believe in women because they can contribute to building it through education. I believe in their courage, their patience, and their determination." – Perrine
"Women are mighty… and we should not have to shout it! It should be in everyone's mind, especially young girls. So let's take the lead and show the world what we are worth!" – Laura
"How many women would have deserved a place in the history of Mankind had they not disappeared because a world of men decided not to grant them an equal level of dignity." – Donato Carris (chosen by Morgane)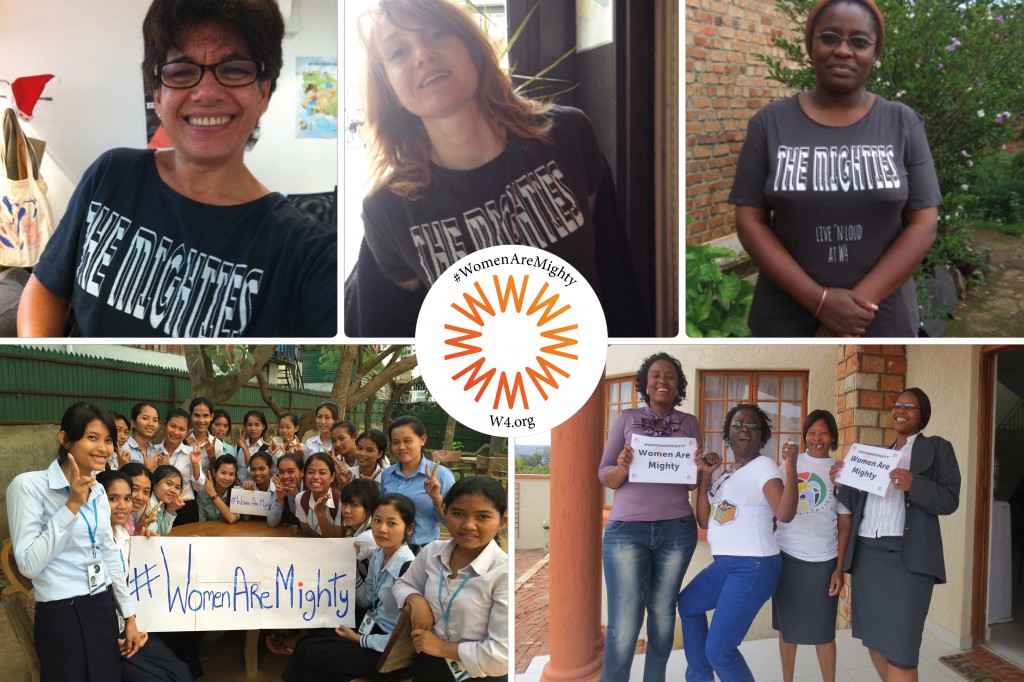 "Women have the power to choose which path they wish to take. We have to believe great things are going to happen in our lives, and we have to do everything we can to make them happen." – Gabriela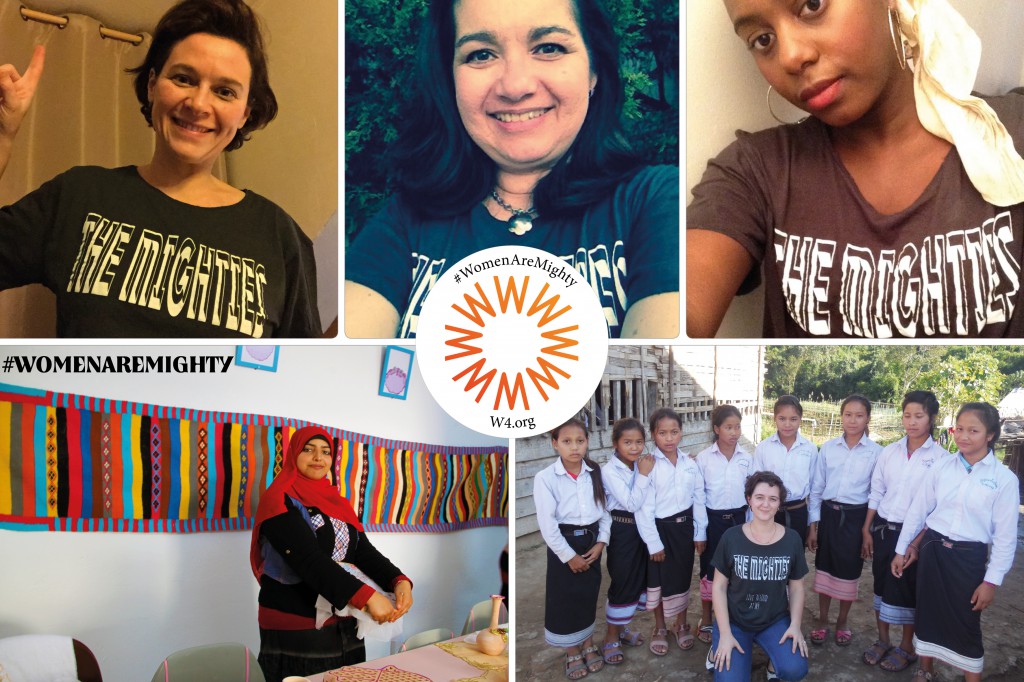 "I support w4 because I believe that the strength and sensitivity of women can change the world, even through little everyday actions." – Mathilde
"The mightiest woman in my life is the one who raised me! She's gone through a lot in her life but, throughout it all, she stands tall. Not even an earthquake could shake her!" – Diofel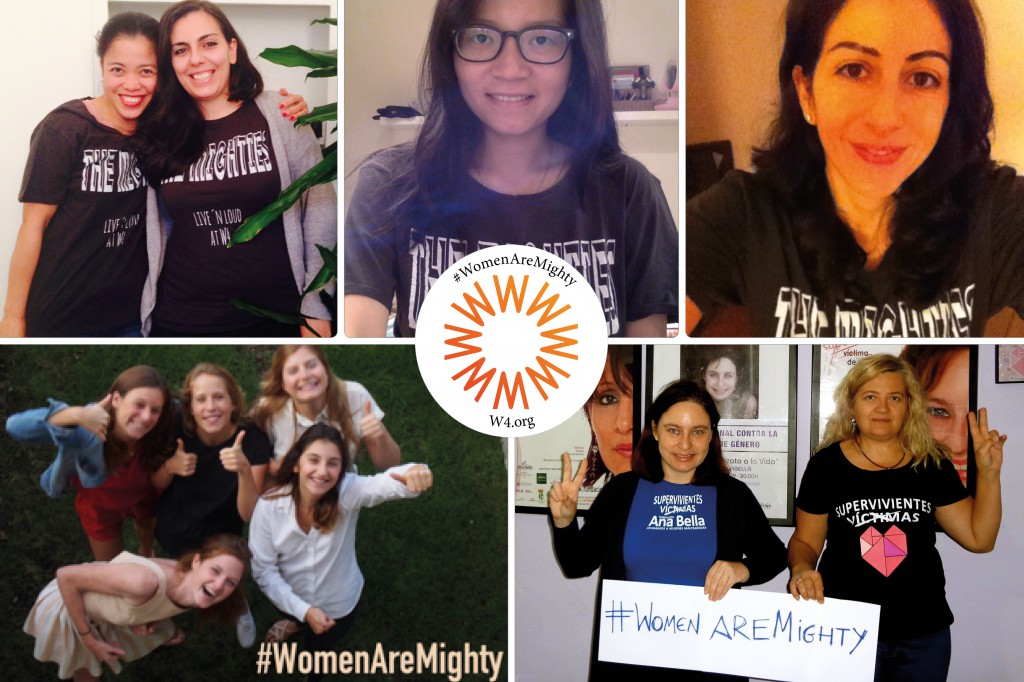 "I believe that given the same opportunities, women can thrive, both in their private lives and in the public sphere. I don't support advantages only for women; it is equality that we need. Being a woman is not a handicap so we don't need special treatment, but in today's world where there are forces that place women as second-class citizens, it is necessary to do everything we can to put women on the same equal footing as men. From there, make no mistake, we will succeed." – Nhu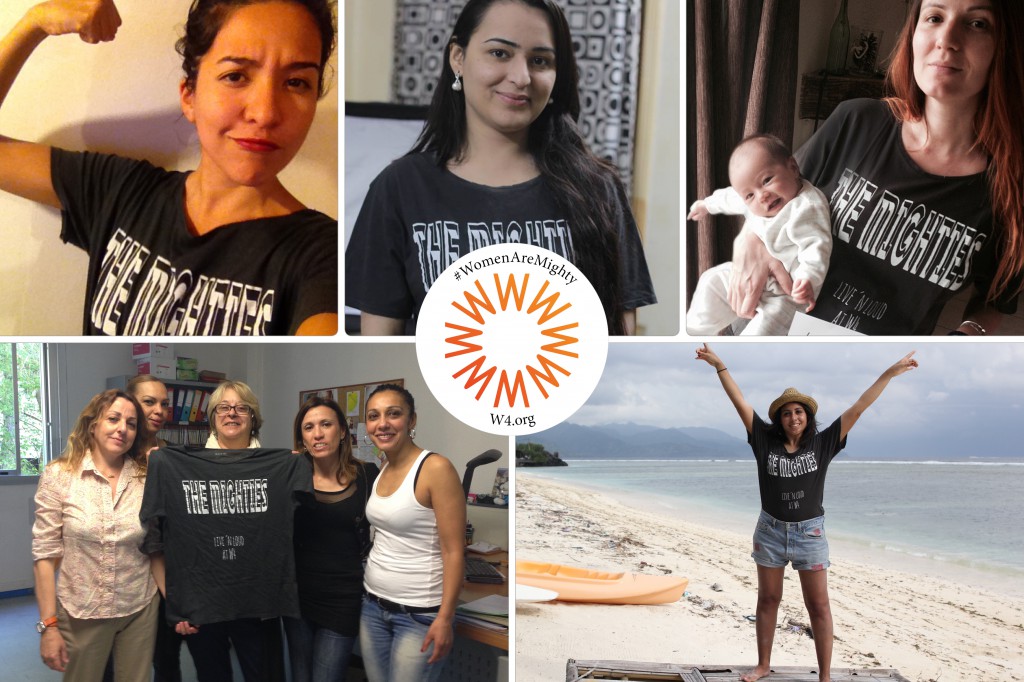 "The other half counts!"  – Sandra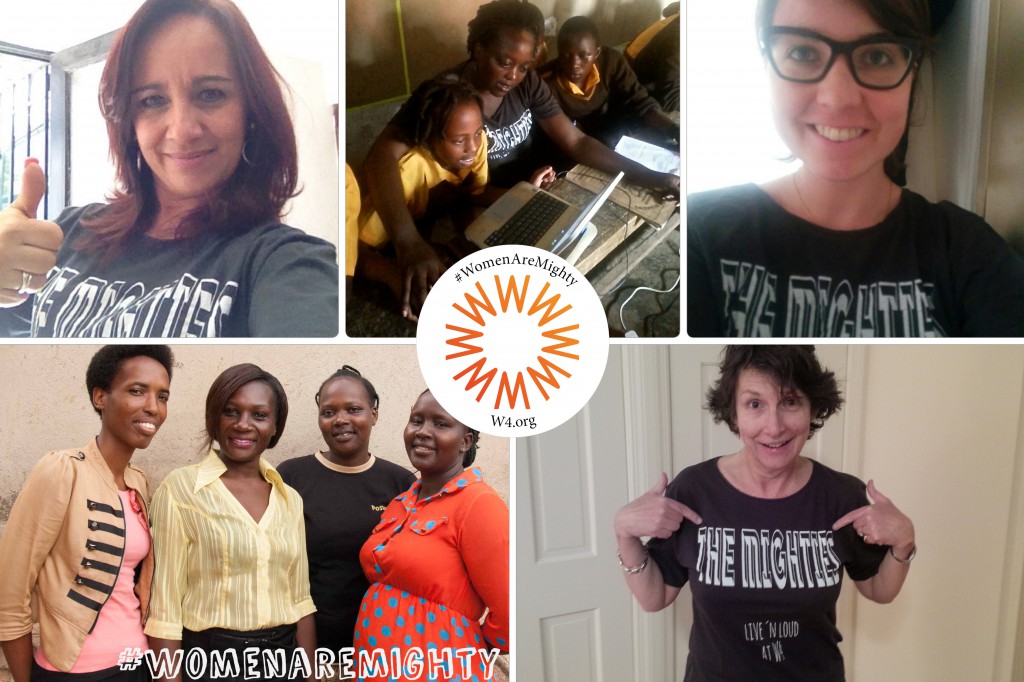 "Being part of W4 has been a great addition to my life! Thank you for giving me the opportunity to serve women around the World." – Susana
"Only by empowering and connecting women can the world make giants' steps." – Victoria
"I've been supported by mighty women from day one: my grandmothers, my mom, her sisters, my own sisters and now my daughter Emilie. I firmly believe that real might is about women supporting women #WomenAreMighty!" – Marie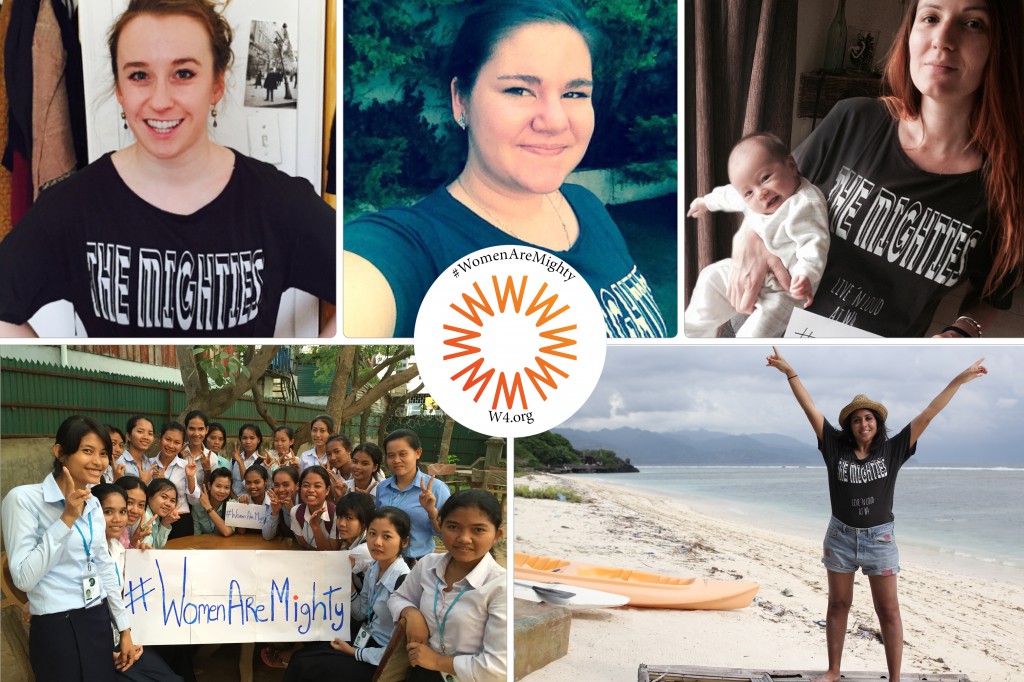 "Without women, the world would be void of its beauty and its strength. Girls and women deserve a life of independence and stability; a life in which their presence is vital in every field!" – Lesley
"I support my sisters around the world. Look past our differences; we've so much to learn from each other." – Emilie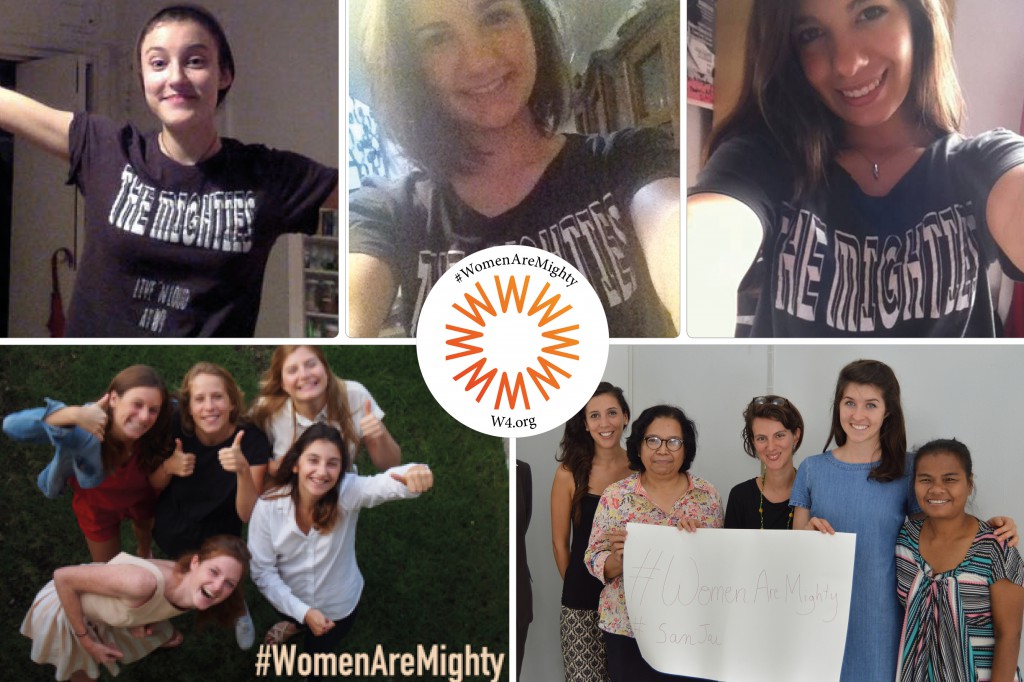 "Women are mighty because they have the power of innovation, and innovation is the future! One of the mightiest women I've ever met is Magatte Wade, a young African entrepreneur and innovator. She is a young, passionate and fierce woman that believes in her continent's potential and fights for its recognition everyday through cultural and entrepreneurial promotion!" – Layla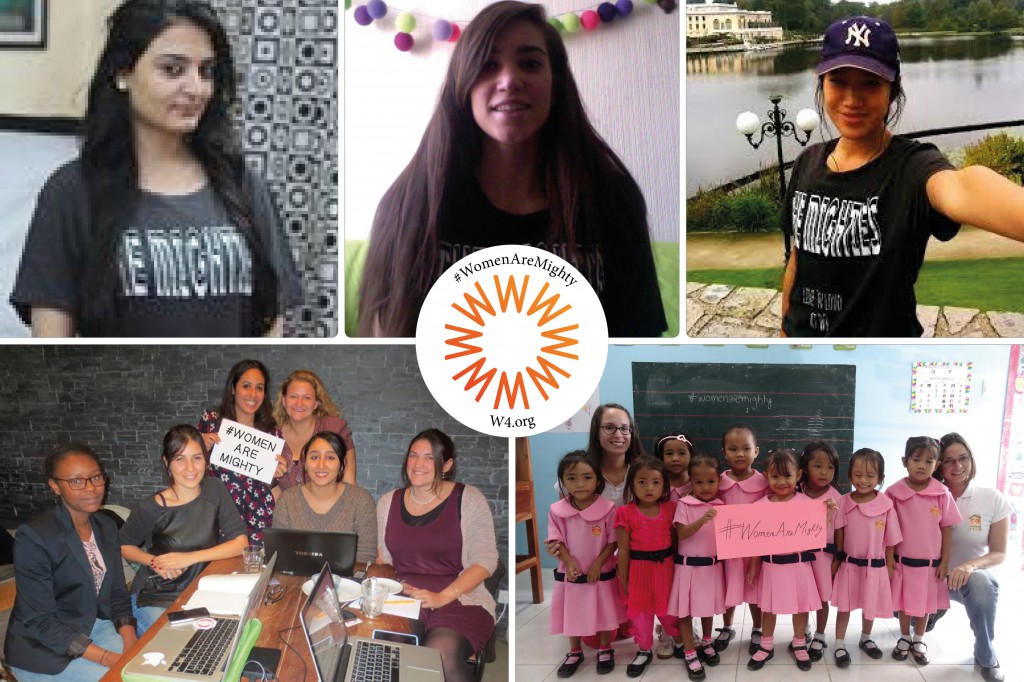 "I support women because we are the key to development!" – Meritxell
"For me, the mightiest women are the ones, like Leymah Gbowee, Anne Marie Goetz, and Raewyn Connell, who are responding to the greatest challenge of the 21st century: putting an end to gender-based violence. These are mighty women fighting for the mighty cause of equality and justice."  – Sophie